Police release disturbing video of Andrew Kearse's in-custody death as his widow fights for reform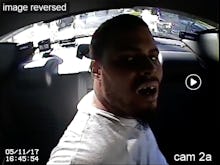 A grand jury on Friday declined to indict Mark Weekes, one of the police officers who ignored New York City resident Andrew Kearse's pleas for help before he died in police custody May 11, 2017. Kearse, a 36-year-old father of nine, had been arrested for fleeing officers in Schenectady, New York.
Kearse, who reportedly ran a red light that afternoon, panicked when patrol officers tried to pull him over during a cigarette run after traveling upstate to visit a friend.
Just weeks before his death, the South Bronx native had been released from prison after serving a two-year sentence and he feared being sent back, according to his widow, Angelique Negroni-Kearse. Weekes was removed from active duty in mid-July during the investigation into Kearse's death; that same month, Negroni-Kearse and her attorney filed a civil lawsuit against the Schenectady Police Department. She viewed the video of her husband's death for the first time in January.
"I kept having nightmares of Andrew locked up in the car," Negroni-Kearse said in a phone interview Wednesday. "He was screaming, but I couldn't hear what he was saying... The video was the most horrible thing I'd ever seen in my life. You don't even do that to an animal, let alone a human being. I never seen Andrew so scared in my life."
Negroni-Kearse has spent the last several months fighting for justice for her husband and other people who face distress in police custody. She joined the Greater New York chapter of Black Lives Matter not long after her husband's death. Now she and her supporters are fighting to enact a state law that would require police to provide aid to suspects in custody who request medical attention — or suffer criminal consequences.
Authorities on Friday released the surveillance video of Kearse's final moments after the grand jury announced its decision not to indict.
(Editor's note: This video contains disturbing footage. View with discretion.)
The video shows Kearse being placed in the back of a police car after a brief foot pursuit through a residential neighborhood. Kearse is visibly winded as he sits there handcuffed, gasping for air and asking the officers to open a window. Weekes later told investigators he declined to do so for security reasons.
Kearse requested help 29 times during the drive to the police station, saying he "could not breathe, felt nauseous and dizzy and was going numb" and repeatedly asking to roll the windows down, according to a report from the New York attorney general's office. Moments before Weekes arrived at the station, Kearse "fell onto his side in the backseat and did not speak again."
Upon arrival, Weekes asked fellow Officer Ross Flood for help moving Kearse from the vehicle.
"Get up man, come on, get up man, come on," one of the officers told Kearse, the Times Union reported.
Weekes began performing CPR on Kearse roughly six minutes after arriving at the police station. Emergency medical services arrived shortly thereafter and continued resuscitation efforts, but Kearse was pronounced dead at a nearby hospital. A medical examiner later concluded Kearse died due to cardiac arrhythmia.
About 34 minutes into the video, amid attempts to revive Kearse, Weekes is seen sobbing into his squad car's open window as another officer comforts him. Moments later, he walks off camera, taking off his sunglasses before wiping tears from his face.
"Mr. Kearse's death never should have happened," New York Attorney General Barbara D. Underwood said in a statement Friday after the grand jury's ruling. "Reforms must be made to prevent similar future tragedies."
Underwood also said New York must pass a law to prevent others from dying under similar circumstances. People like Barbara Dawson, Freddie Gray and other individuals of color have died in police custody after being refused medical attention.
"The state legislature should immediately act to ensure a uniform statewide policy for New York police departments that requires officers to treat breathing difficulties as medical emergencies and departments to conduct training concerning that policy," Underwood said.
During his grand jury hearing, Weekes said he was trained to ignore suspects who say they can't breathe on the grounds that if a person can speak, they can breathe.
"A complaint about breathing difficulties should not be dismissed because the arrestee is able to talk," Underwood said.
Negroni-Kearse said civil liability and potential dismissal are not enough for men like Weekes, who she said should receive jail time to deter other officers from making the same fatal mistakes.
"They think they can get away with anything," Negroni-Kearse said. "It's important to prevent another family from going through what I've been through."