London now has its first vegan fish and chip shop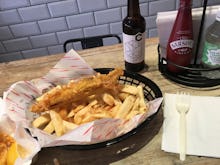 LONDON — Going down to the local fish and chip shop on a Friday night is a British tradition, and the Sutton and Sons chippy in Hackney is already busy at 3 o'clock in the afternoon. While the thick, fluffy chips (or, as Americans call them, fries) are the same here as at any other chip shop in the city, the "fish" is something different entirely: It's vegan.
Britain's first vegan chip shop opened on Oct. 4, and its credentials are sound. Proprietor Daniel Sutton is a fishmonger who's been operating fish and chip shops in North East London for 20 years. I already knew Sutton's as a place that serves a really nice battered cod, and their chips are some of London's finest. Curious to see if this expertise would translate to a vegan meal, I skipped past Sutton's traditional fish-serving outlet in Hackney and entered the brand new vegan establishment, a few doors down on Graham Road.
The vegan dish certainly looks like the traditional one. A battered fillet sits atop thick British chips, a beautiful thing that's completely different from skinny fries, and I eat a few as I poke at the light, crisp batter to reveal what's inside. The "fish" is banana blossom, marinated in seaweed and a proprietary blend of spices. It flakes similarly to fish, but it's definitely not cod: The taste resembles artichoke, with a light marine tang. Once I stopped expecting it to taste like fish, I started to really enjoy it. I also ordered "scampi" made from Japanese potato starch that was fishy enough to have fooled me.
Every year, Britons eat 167 million portions of fish and chips from 10,500 dedicated chip shops. "There are lots of vegans who still love fish and chips," Daniel Sutton, founder of Sutton & Sons, said in a phone interview. "I like giving people what they want, which is a British tradition on a Friday night." Born and raised in Hackney, Sutton considers himself a foodie and likes trying out the new restaurants opening in this now-trendy part of London. He noticed that restaurants were increasingly offering vegan options: "I thought it was my duty to get involved."
But Sutton didn't want to use tofu, as he's not a big fan of the taste, so he turned to banana blossom. "A good friend of mine has a Vietnamese restaurant and he suggested it — he uses it in shredded form in one of his dishes," Sutton said. "It's got a nice flavor, it's a natural product and it's got a similar texture to fish. We went from there." Sutton started offering the vegan option at his regular shops earlier in 2018. The experiment was so popular that he decided to open a vegan-only shop.
While the reception of a vegan fish and chip has been overwhelmingly positive in London, Andrew Crook, president of the United Kingdom's National Federation of Fish Friers, doesn't think he could go all vegan at his chip shop in Euxton, Lancashire. But, he said, it's a forward-looking industry: "There's lots of [chip] shops out there catering for different requirements — many have halloumi, and I've got gluten-free batter and separate fryers for it. People do think about these things and try to offer the choice."
Crook thinks the vegan shop is a testament to the dish's place in the nation's hearts: "It goes to show that if people make life choices like becoming vegan, one of the things they miss is fish and chips." People have strong memories of eating it as children, and it's comforting, Crook said: "Most people want food they can trust. With fish and chips, it's potatoes from the ground, it's fish from the sea, it's flour from the field."
As the author of the book Fish and Chips: A History, Panikos Panayi knows more than most about how fish and chips is a fusion dish, a result of immigration and innovation. But, Panayi said, "If it doesn't have fish in it, then it's not fish and chips!" In fairness, Sutton isn't claiming the banana blossom to be fish — it's marketed as "fish" in quotation marks, or "vish," and the sign out front says "vegan chip shop." Traditional fish and chip shops have been steadily trying out new things over the past 100 years, Panayi said when I called him at his office at De Montfort University in Leicester, where he's a professor of European history. Panayi points out that burgers, chicken and kebabs are often found on chip shop menus these days: "I suppose this is another example of diversification."
Pete Brown, author of a forthcoming book about British food titled Pie Fidelity, thinks Sutton's vegan alternative is "a really good attempt." Brown, who also lives in Hackney, considers fish and chips, alongside the Sunday roast and the full English breakfast, to be the core of traditional British cooking. "It's just so dependable," he said over the phone. "It's easy, it's cheap. I think it's profoundly underrated in terms of its culinary prowess. People often dismiss it as inferior." You can get good or bad versions of any meal, Brown said. "But when you get the best fish and chips, I would argue it's as satisfying as any meal. The smell of hot vinegar evaporating off of chips is one of the greatest smells in the world."
The history of fish and chips in Britain
Fish and chips is credited with boosting morale through two wars, and the arrival of this early "fast food" played a historically vital role in improving nutrition for working class people. "It was a real cultural revolution for poorer people," Brown said, explaining that food security remained a real problem for longer than most people realize. The tradition of British fish and chips is just over 150 years old — Joseph Malin is credited by the National Federation of Fish Friers as being first to pair fried fish with chips, around 1860 in the Bow neighborhood of East London. (However, it remains contested: Some argue Lee's of Mossley in Lancashire was actually first, in 1863.) Adding potatoes to the dish was initially a necessity during a period when fish was scarce, but it was soon recognized as a perfect culinary marriage.
But while the combination of fish and chips is certainly an English invention, its components aren't actually British at all. "Fried fish [came from] the Jewish ghettos in the East End of London," Brown said. "Its roots are traced back to Jewish communities in southern Spain." The potato is also a foreign import, arriving in Europe via Spain and Portugal. "No one really knows who invented chips," Brown added. "The French and the Belgians each claim it for themselves, but [the Brits] probably started doing it about the same time."
Britain's favorite takeaway dish is the result of a creative mix of tradition with availability, with the additional goal of feeding the masses — in that spirit, the vegan version fits right in. For Daniel Sutton, it's about everyone being able to enjoy the fish and chips tradition. "[The banana blossom] has still got the nice batter, you're using the same condiments — salt and vinegar — and the same mushy peas," Sutton said. "The only difference is that inside that crispy batter isn't cod, but something similar. It's as close as we can get it. I'm just pleased it's still a natural product."