HBO's 'Real Sports' examines the impact of Jordan Edwards' murder on his high school football team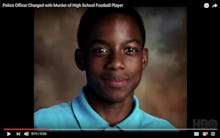 On the latest episode of HBO's Real Sports with Bryant Gumbel, which airs Tuesday night, correspondent David Scott explores the devastating toll Jordan Edwards' murder at the hands of former police officer Roy Oliver has had on Edwards' Mesquite High School football teammates.
Emotional video of the team's first game after Jordan's shooting death shows tearful players adorning their maroon helmets with "JE" stickers.
"There was kids crying before the game; there were kids crying after the game," head coach Jeff Fleener tells Scott during the episode. "There's nothing in the head coach's manual that tells you how to handle these situations."
Oliver shot Edwards in the head with an AR-15 on April 29, 2017, as Edwards, his brother and three other teens left a house party in the Dallas suburb of Balch Springs. Police responded to the scene after someone called and reported "drunk teens" partying at the residence. Edwards and his brother decided to leave the party after they heard gunshots an investigation later determined came from a distant parking lot.
Oliver was fired from his department less than a week after body camera footage from the incident didn't back up his claim that Edwards' vehicle was accelerating toward another officer at the time of the shooting; in August, he was found guilty of murder and sentenced to 15 years in prison. Of the estimated thousands of police-involved killings of civilians carried out since 2005, Oliver is only the second to be convicted of murder.
HBO's Real Sports explores lesser-known details about Edwards' shooting death, including Oliver's history of police misconduct and what the episode calls a "trail of red-flag issues" — including an alleged Facebook post from 2013 in which Oliver said he would "never be as good at anything as I am at killing people"; a violent encounter Oliver reportedly had with a man who called police for help in 2014 after his epileptic child had a seizure; and an off-duty road rage incident during which allegedly Oliver pulled his gun on a motorist after a minor car accident.
Fleener said the loss of Edwards, who was a high school freshman when Oliver killed him, still lingers with Mesquite High's players.
"There's still a piece of this group that's missing," Fleener said during the episode. "It doesn't go away a year later, or two years later. It's something that's going to be a constant reminder for these young men... some of them for life."