Brian Kemp's office says alleged voting machine malfunctions are likely due to human error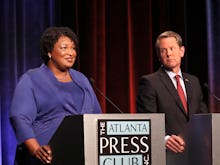 The Georgia NAACP filed its most recent complaint against the state after receiving reports of voting machines with malfunctioning touch screens at precincts in at least four Georgia counties: Bartow, Cobb, Dodge and Henry.
NAACP officials said they have fielded several calls over the last week or so from early voters having technical issues with voting machines. Most of the state's machines, which were manufactured by Diebold, have been in service since 2002, the secretary of state's office said.
Brian Kemp's office says reports of malfunctioning electronic voter machines changing votes for gubernatorial candidate Stacey Abrams to votes for Kemp are probably just mistakes being made by voters. Abrams has a chance of becoming the first black woman to serve as governor of Georgia on Nov. 6 if she can defeat Kemp who — as Georgia's secretary of the state — is managing his own election while simultaneously battling accusations of voter suppression.
"Those instances [of vote flipping] are rare in the first place," Secretary of State spokesperson Candice Broce said over the phone Wednesday. "Every time we've gotten an allegation of vote flipping, it has been user error 98% of the time."
Voters having issues eventually were able to choose their intended candidate, but only after multiple failed attempts, according to the Georgia NAACP's second vice president Gerald Griggs.
"Our fear is that if the information does not get out, a large number of people's votes will be changed," Griggs said on Wednesday. "We've had this problem for at least eight years that I know of. This is the first time we've heard of this in the 2018 election."
Cartersville, Georgia, native Pamela Grimes said she has voted in every election since 1987 without a problem until Thursday.
The 49-year-old mother of four and local NAACP volunteer said she visited her polling station at 1304 Joe Frank Harris Parkway in Bartow County six days ago to cast her ballot. She loaded her voter card into her voting machine, but when she tapped the box next to Abrams' name on her touch screen, she saw a black X appear next to Kemp's name instead.
"When I went to de-select Kemp, I was unable to do so," Grimes said over the phone Wednesday afternoon. "I hit the 'Previous' button and went back and read the instructions over again to make sure I didn't miss anything. I went forward again. Brian Kemp was still selected. I hit the 'X' as the instructions stated. It would not allow me to de-select him."
The secretary of state's office said it didn't get the NAACP's latest complaint until 4 a.m. Wednesday after receiving two previous complaints about votes cast for Kemp being flipped to Abrams.
"We've reached out to county officials and we're just waiting on additional information from them," Kemp's spokesperson said. "We've reached out to each of the voters, too, and we haven't heard from them yet. We'd like to give them an opportunity to reach out to our staff and tell them exactly what happened. We always encourage people to reach out to us, too."
Kemp has served as Georgia's secretary of state since 2010. Under his leadership, the state has cancelled more than 1.4 million voter registrations, including about 670,000 registrations in 2017.
Georgia's NAACP division joined a lawsuit last week to force boards of election in counties across the state to process and approve 53,000 voter registration applications currently sitting in limbo for alleged voter roll maintenance issues.
An Associated Press investigation revealed that 70% of those applications were filled out by African-Americans, who make up just 35% of the state's population.
Broce said elections director Chris Harvey and chief investigator Russell Lewis are in the process of reviewing the voter machine malfunction issues.
"If warranted, we will open a formal investigation on behalf of the bipartisan state election board," Broce said.
Georgia owns roughly 19,000 machines, and the state's individual counties own another 9,000-10,000, according to Broce.
Kemp's office said technical issues with voter machines usually involve people touching the wrong part of the screen and that counties having touch screen calibration problems are supposed to take the equipment out of service immediately.
"If it's ever a calibration issue, the machine is taken out of service in an abundance of caution," Broce said. "We always encourage voters to reach out to our office if they experience any issues or witness any suspicious activity at the polls."
Grimes said she tried voting four times over four minutes before her machine showed she cast her vote for Abrams. She said she only had issues choosing the right candidate for the governor's race even though there were several other races on the ballot.
She's not confident her vote was counted properly.
"I just don't want people to feel like, 'Hey it's rigged,' and be deterred from going to vote," Grimes said. "I just want everybody to be cognizant of their choices and make sure they're reading and paying attention. For some who may be rushing through it thinking they're selecting as I did, they could just breeze right through and select the wrong person."