This Week in Sports and Social Justice: NFL players argue over Kap; Khabib, McGregor suspended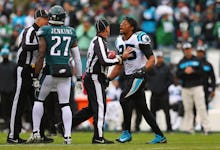 Welcome to Mic's new weekly roundup of news coverage related to activism in the world of sports, both on and off the field. Check us out every week for a summary of the latest headlines covering the intersection of sports and social justice issues.
Here's the latest on the sports world's social justice controversies:
Josh Norman claps back at Eric Reid's "sellout" comments regarding NFL players coalition deal
Washington Redskins cornerback Josh Norman weighed in Thursday on the ongoing fallout from Colin Kaepernick supporter Eric Reid's on-the-field spat with NFL Players Coalition leader Malcolm Jenkins.
Reid has been feuding with Jenkins and Norman ever since the NFL Players Coalition Jenkins leads signed a deal with League owners for them to donate $90 million to the players' social justice causes. The deal was the owners' response to the players' kneeling protests during NFL national anthem performances, a symbolic anti-police brutality and anti-racism gesture started by Kaepernick in 2016.
Kaepernick hasn't been signed to a team since becoming a free agent in 2017, which many believe is the league's response to the anthem-kneeling controversy.
Reid had refused to take part in the players' deal with owners, in part, because it didn't mandate Kaepernick's return to the NFL.
Jenkins and Reid engaged in a shouting match in the middle of Lincoln Financial Field in Philadelphia on Oct. 21 before the start of the Eagles' game against the Carolina Panthers.
During press interviews after the game, Reid accused Jenkins of selling out Kaepernick and trying to hijack the movement Kap inspired.
"I believe Malcolm capitalized on the situation," Reid said. "He co-opted the movement that was started by Colin to get his organization funded. It's cowardly. He sold us out."
Norman told NFL reporters on Thursday that Reid's comments on Jenkins were "a slap in the face."
"Malcolm has done nothing but stand up in the player's coalition," Norman said. "For [Reid] to take a shot like that, he's not only taking a shot at [Jenkins]. He's taking a shot at everybody in the players coalition."
On a related note, Reid's grievance against the Cincinnati Bengals was denied by an arbitrator on Wednesday, according to Yahoo! Sports.
Earlier this year, the players union, known as the NFL Players Association, accused the Bengals of declining to sign Reid after interviewing him in April, because Reid refused to agree not to kneel in protest during the team's pre-game National Anthem performances.
Reid said the ruling won't affect his and Kaepernick's collusion lawsuit against the NFL for allegedly blackballing both players over the anthem protest controversy.
"We are going to move forward with the collusion case," the safety said, according to Yahoo! Sports. "That case was against the Bengals individually, and that [collusion] case was against the league as a whole."
Khabib Nurmagomedov and Conor McGregor's suspensions get extended over their post-fight brawl
The Nevada State Athletic Commission voted unanimously on Thursday to indefinitely extend the suspensions of UFC fighters Khabib Nurmagomedov and Conor McGregor until a more thorough investigation of their Oct. 6 post-fight melee is completed.
In the lead up to their lightweight championship fight, McGregor used Islamophobic taunts against Nurmagomedov, who is Muslim, to build tension and promote their bout as the bombastic Irish fighter has been known to do ahead of many of his matches with fighters of color.
McGregor upped the ante in April when he attacked Nurmagomedov's team on a bus in Brooklyn, New York, by throwing a dolly through one of the windows, sending shards of glass into the eye of one of the champ's training partners.
The tension boiled over after McGregor and Nurmagomedov's title fight when one of McGregor's cornermen reportedly called Nurmagomedov another anti-Muslim slur, prompting the undefeated Russian to climb out of the octagon and leap into the crowd to attack the man who mocked him.
Members of Nurmagomedov's entourage simultaneously entered the ring and confronted McGregor who punched one of them in the face.
Nurmagomedov defended his actions after the fight via Instagram on Oct. 11 and threatened to quit the UFC if his teammates were unfairly punished for attacking McGregor in the octagon during the post-bout frenzy.
"I finished what [McGregor] started," Nurmagomedov said on IG.
NSAC officials released half of Nurmagomedov's $2 million purse Wednesday after withholding it indefinitely pending their review of the champ's extra-curricular brawl with McGregor's camp, according to ESPN. McGregor was paid the entirety of his $3 million purse immediately after the fight, but NSAC chairman Anthony Marnell told reporters the commission would not have done that if it had comprehensive film showing McGregor punched Nurmagomedov's teammates before they attacked him after entering the eight-sided ring.
Marnell told ESPN the commission hopes to have completed its investigation into the incident by the end of the year, but no definitive timetable has been set. ESPN reports that Nevada regulations set no limit to the punishment NSAC officials can issue on Nurmagomedov and McGregor.
HBO's Real Sports examines effect of Jordan Edwards' murder on his high school football team
On the latest episode of HBO's Real Sports with Bryant Gumbel, which aired Tuesday night, correspondent David Scott explored the devastating toll Jordan Edwards' murder at the hands of former police officer Roy Oliver has had on Edwards' Mesquite High School football teammates.
Scott talked to MHS head coach Jeff Fleener about his team's first game after Edwards' death, when teammates wept and decorated their helmets with "JE" stickers to honor their fallen brother.
"There was kids crying before the game; there were kids crying after the game," Fleener said. "There's nothing in the head coach's manual that tells you how to handle these situations." For more on the full episode, click here.
Oliver shot Edwards in the head with an AR-15 on April 29, 2017, as Edwards, his brother and three other teens left a house party in the Dallas suburb of Balch Springs.
The officer was fired less than a week later after body cam video didn't back up his story about what happened that night. He was convicted of murder and sentenced to 15 years in prison in August.