Trump offers mixed signals on his support for criminal justice reform in bid to woo black supporters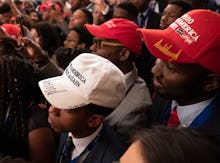 By just listening to his words and looking at his actions, it can be difficult to tell where President Donald Trump stands on the issue of criminal justice reform.
In August, Trump put a pause on son-in-law Jared Kushner's mass incarceration reform efforts, after Attorney General Jeff Sessions and far-right Republicans in Congress like Tom Cotton (R-Ark.) convinced Trump that prison reform contradicted his law-and-order campaign narrative, according to New York Magazine. Appearing soft on crime could demotivate Trump's base ahead of the 2018 midterms, Republican Sen. John Cornyn of Texas argued.
Yet on Oct. 11, Trump told reporters he would overrule Sessions on criminal justice reform if the attorney general tried to stifle Kushner's overhaul.
Trump appears to believe the latter approach will win him greater support from African-Americans. And his advocates, like Kanye West and Candace Owens, from the conservative non-profit Turning Point USA, believe Trump's recent poll numbers prove both he and they are right.
"For the first time, prisoners are getting jobs, and you know what's happening? They're getting a second chance," Trump told a room full of MAGA hat-wearing black supporters, including Housing and Urban Development Secretary Ben Carson, on Friday during Turning Point's Black Leadership Summit.
"The African-American community appreciates that maybe more than anything we've done," he added. "What has happened is the economy has been so strong that people are hiring people that got out and they're giving them a second chance and giving them a third chance really, giving them a lot of chances. They're hiring people getting out of prison."
Some seemed to take offense at Trump's assumption that an appeal to help former criminals was an automatic appeal to help black Americans.
"President Trump just said black people appreciate more than most that prisoners are getting jobs and a 'second chance.' Think about that," New York Times reporter Yamiche Alcindor, who is black, tweeted on Friday.
Reforming America's prisons has been a bipartisan policy initiative championed for years by progressive African-American advocates. Black Americans represent about 13.4% of the U.S., but black males alone made up between 34.9% and 41.3% of overall males in the U.S. prison population in 2016, according to a January report from the Bureau of Justice Statistics.
Throughout 2018, estimates of Trump's approval rate among African-Americans have been sporadic. A January Gallup poll cited by the Washington Post had Trump's black approval rating at just 6%, five months after Trump's controversial remarks on the deadly Unite the Right neo-Nazi rally in Charlottesville, Virginia.
An erroneous Reuters poll released after Kanye West endorsed Trump in April had Trump's approval among black men at 22%. Pew Research had Trump's black approval at 14% in June. The NAACP had it at 21% on Aug. 7. Another August poll from conservative-leaning Rasmussen had Trump's black approval rating at 36%, according to USA Today.
Skeptics have argued the polls are wrong. A late August ABC News poll showed support for impeachment and disapproval of the president was highest among African-Americans. Meanwhile, black turnout for anti-Trump Democrats, such as Sen. Doug Jones (D-Ala.), has been up in select races across the U.S. The president's penchant for criticizing black celebrities and his racist acolytes in the ranks of the alt-right make the negative polls easier to believe.
But Trump is convinced black Americans' disenchantment with Democrats may outweigh their distaste for him, and that the record-low African-American unemployment rate Trump boasts about so often is winning him black supporters.
"Unemployment for African-American women has also reached the lowest number ever recorded," Trump said Friday. "The African-American poverty rate is now at its lowest level... The Democrat party is obsessed with resistance. We are focused on results."