A running list of politically charged, white supremacist violence in the last 30 days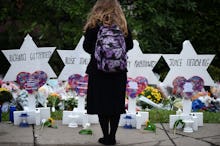 Saturday's synagogue massacre in Pittsburgh, Pennsylvania, was the deadliest anti-semitic attack in U.S. history. It was also the latest incident of political extremism or targeted hate in America to make headlines in the last seven days, coming on the heels of an alleged white supremacist accused of killing two black people in Kentucky and a Trump supporter's alleged attempts to send pipe bombs to several U.S. leaders, philanthropists, actors and CNN.
Experts say the climate of hate and political violence across the country has been rising since the start of Trump's presidential campaign two years ago. And it's only getting worse.
"This has been a continuation of what we've seen in the last couple of years," Keegan Hankes, senior research analyst at the Southern Poverty Law Center's Intelligence Project, said in an interview Monday. "The rhetoric and the level of vitriol and divisiveness we've seen play out has been consistent as it relates to demonizing a number of minority populations. It's difficult not to contextualize this last rash of incidents in the climate we're living in, and this is the result of that."
There have been several incidents of hate, politically motivated violence or related arrests in the month of October alone. Some of them have flown under the national radar:
Rise Above Movement rioters arrested for roles in Unite the Right rally — Oct. 2
Four members of the violent alt-right group known as the Rise Above Movement were arrested and charged by federal authorities for their alleged roles in Charlottesville's bloody Unite the Right rally in 2017.
Benjamin Daley, Michael Miselis, Thomas Gillen and Cole White were all charged with violating the Riots Act for allegedly harming anti-racist counterprotesters during the far-right rally.
U.S. attorney Thomas Cullen called the accused "serial rioters," and the Anti-Defamation League said RAM's members routinely train in mixed martial arts. They've been allegedly involved in violent confrontations with their antifascist adversaries in California cities like Berkeley and Huntington Beach.
Federal authorities also arrested RAM co-founder Robert Rundo at Los Angeles International Airport on Oct. 21, according to the Los Angeles Times.
A sixth RAM member — 38-year-old Aaron Eason, of Anza, California — turned himself into federal authorities on Sunday for his alleged role promoting violence at political rallies, according to NBC News.
Far-left and far-right clash in Providence, Rhode Island, on Oct. 6
MAGA hat-wearing supporters of the group Resist Marxism engaged in violence with supporters of Ocean State Against Hate outside of the state house building in Providence, Rhode Island, on Oct. 6.
State police wearing riot gear descended on the crowd to break up their bout. A fire extinguisher was used to douse the brawling demonstrators by an unknown party at one point during their melee. Minor injuries were reported, but no arrests were made, according to the Providence Journal.
Patriot Prayer vs. antifa in Portland, Oregon, — Oct. 13
Members of the conservative group Patriot Prayer and antifascist demonstrators allegedly used bear spray and bare fists in more violence in the streets of Portland, Oregon, on Oct. 13, according to the Oregonian. This time the violence erupted when antifa disrupted Patriot Prayer's Flash March for Law and Order.
Patriot Prayer is led by Joey Gibson, a conservative libertarian, free speech absolutist who takes issue with progressives who don't allow conservative speakers to host rallies in public spaces or speak on college campuses.
No arrests were made initially from the event, according to the Oregonian.
Proud Boys vs. anti-racist protesters in New York City — Oct. 12
Members of the violent, self-described "Western chauvinist" group known as the Proud Boys reportedly beat counterdemonstrators outside the Metropolitan Republican Club in New York City on Oct. 12.
The far right hate group's members were attending a speaking event featuring their founder Gavin McInnes as anti-racist activists protested outside the club. The fight broke out after the event ended when one of the progressive activists allegedly threw an object believe to be a bottle at Proud Boy members, who proceeded to kick and punch the masked antifa demonstrators while calling them "faggot" on tape.
Three counterdemonstrators were arrested immediately after the scuffle in a second incident a few blocks away. At least five Proud Boys allegedly involved in the melee have been apprehended in the days and weeks that followed.
Racist man kills two black people at random in Jeffersontown, Kentucky — Oct. 24
Authorities say Gregory Alan Bush tried to enter a local black church that was locked on Oct. 24 before he allegedly killed two black customers inside a Kroger grocery store instead, according to CNN.
Steve Zinninger told WAVE 3 News that his father, who was armed, confronted the shooter at the scene.
"He said don't shoot me and I won't shoot you," Zinninger said of the shooter. Zinninger said Bush responded by saying, "Whites don't kill whites."
Bush was held on a $5 million bond Thursday after being charged with two counts of murder, according to NBC News.
Federal authorities are investigating the incident as a possible hate crime.
"MAGA bomber" accused of sending explosives to at least 12 targets — Oct. 26
Trump supporter Cesar Sayoc appeared in court Monday where he was charged with five federal charges for his alleged role in mailing at least 14 bombs to people who have become some of Trump's most famous political enemies, including several U.S. leaders.
Sayoc was charged with interstate transportation of an explosive, illegal mailing of explosives and threats against former presidents and other persons, in addition to threatening interstate communications and assaulting current and former federal officers, according to CNN.
Authorities say the Florida man mailed explosives to a CNN office in Manhattan, former President Barack Obama, former Secretary of State Hillary Clinton, former Vice President Joe Biden and progressive billionaire philanthropists George Soros and Tom Steyer. Sayoc also allegedly sent bombs to U.S. Rep. Maxine Waters, (D-Calif.) U.S. Sens. Cory Booker (D-N.J.) and Kamala Harris (D-Calif.), former national intelligence director James R. Clapper Jr., actor Robert De Niro and former CIA director John Brennan.
Sayoc faces up to 48 years in prison if he's convicted, CNN reported.
Shooter kills 11 at Tree of Life synagogue in Pittsburgh — Oct. 27
Robert Bowers had to be pushed into court in a wheelchair on Monday after he allegedly fatally shot 11 Jewish worshippers at the Tree of Life synagogue in Pittsburgh.
His alleged anti-Semitic killing spree took place during services on Saturday. The 46-year-old has been charged with 29 felonies, including 11 counts of use of a firearm to commit murder and 11 counts of obstruction of the exercise of religious beliefs resulting in death, according to NBC News.
Investigators say Bowers targeted the synagogue for its participation with the Hebrew Immigrant Aid Society, which helps refugees coming into the United States from ravaged regions to resettle in the local area.
Bowers' alleged victims included eight men and three women ranging in age from 54 to 97, according to the New York Times. Among them were Daniel Stein, 71, who recently became a grandfather; frequent temple-goer Melvin Wax, 88, and brothers David Rosenthal and Cecil Rosenthal.
Prosecutors say they plan to pursue the death penalty if Bowers is convicted.
Nov. 2, 2018, 4:43 p.m.: This story has been updated.