A guide to India's color cities, Jaipur and Jodhpur — and what to eat, see and do when you're there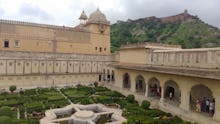 In the age of millennial pink and other Instagram backdrop aesthetics, there's perhaps no place more photogenic than India's color cities. Jodhpur — nicknamed the "blue city" — is lush with sky blues and deep greens, while Jaipur, the "pink city," is an urban scape of pastels against the backdrop of warm desert land.
Simply put: You'll see a lot of tourists taking photos. But more importantly, these cities attract visitors because of their vibrant culture, characterized by thousands of years of dynamic world history. Just six hours apart by train, both cities are a part of the northwestern Indian state of Rajasthan. This area has seen the rise and fall of entire empires, the spawn of billionaires and their unfathomably luxurious palaces and dozens of battles and wars. And in the 21st century, it's no doubt an incredible place to visit.
Here's more on what to do, see and eat.
Jaipur
What to see
Jaipur has been called "a photographer's paradise" — and for good reason. Historically speaking, the area's advanced city planning and imperial Mughal architecture were remarkable for their times.
The city is a unique mix of Hindu and Muslim design — often with a touch of soft pink. Though some buildings were pink to begin with, many were painted this color in 1863 to welcome Prince Albert, who served as prince consort in the United Kingdom by marrying his first cousin, Queen Victoria (for the record, India was brutally colonized by the British between 1858 and 1947). Ever since, the pink has stuck around, attracting foreign visitors and Indians alike, even in 2018.
Many tourists visit the pink City Palace, a massive complex built in the early 1700s. But one of the biggest architectural attractions in Jaipur is the Hawa Mahal, a five-story palace built out of of red and pink sandstone in 1799. It's unique for its "beehive-like" shape, with 953 windows, which were designed to allow royal women to watch special events and daily life unfold in the streets below. Though Instagram will convince you otherwise, it's actually difficult to score a good shot of the Hawa Mahal because it's on a fairly narrow, busy street. For a good vantage point (and a break from the scorching heat), many visit the Tattoo Cafe and Lounge for a photo op from its balconies. And beyond the pink, don't forget to visit the area's Amer Fort, a grand palace built in 1592 with both Hindu and Muslim influence melded into its aesthetic.
Where to shop
Johri Bazaar is full of immaculately detailed textiles, shoes and jewelry — plus a tasty bite or two to eat. This market is a goldmine of colorful, patterned bedding and wooden carved goods to bring home a touch of Rajasthan's artistic aesthetic. Just be sure to bargain if you're interested in getting a good price.
Where to eat
Foodies who visit Jaipur better come with a sweet tooth. One of the city's most famous bakeries is Laxmi Mishthan Bhandar, called "LMB" for short. It also has a restaurant inside known for its "royal Rajasthani thali" — a large platter of food with rotating, refillable side dishes of curries, samosas and sweets.
Jodhpur
What to see
Known as "the blue city" and "the sun city," there are few mornings as magical as those spent in the peaks of Jodhpur. The city's founder, and legendary warrior, Rao Jodha, demanded that many of the houses be painted a sky blue color in the mid-1400s — but no one's really sure why. Some say it was to signify the area's upper-class status at the time, while others believe the blue paint was used to fend off termites. Either way, this part of the city is gorgeous. Winding streets, fabric stalls and steaming food stands await for further exploration (Disclaimer: The area is also speckled with trash and cow dung in some areas, so bring the right shoes).
The most famous attraction in Jodhpur other than the oh-so-Instagrammable blue streets is the 15th-century Mehrangarh Fort — an incredibly detailed palace isolated on a steep, 400-foot-high cliff that overlooks the entire city of Jodhpur. From the top, one can take the best panoramas of the blue city and even spot a few gray langur monkeys or green ringneck parakeets hanging around. Jodhpur's clock tower and Umaid Bhawan Palace are also interesting visits for those who enjoy architecture..
Where to shop
Aside from sightseeing, Jodhpur is a top-notch city to get one's shop on. Art lovers should visit miniature painting artist Gangaram Kumawat, who has a reputation for restoring intricate detailing in Rajasthan's old palaces. Kumawat, who comes from a family with six generations of miniature painters, sells original work that takes him days to paint — and at an affordable price. His shop is located inside the Pal Haveli hotel.
Jodhpur travelers should also check out Sadar Bazaar and Mochi Bazaar for Rajasthani textiles, hand-woven rugs, treasure boxes, puppets, handcrafted shoes and jewelry. Just know that bargaining down prices is the norm for getting a good deal.
Where to eat
Jodhpur has many options for a nice dinner out: There's the rooftops of Indiue, which sells traditional northern Indian fare against the backdrop of the city's clock tower and Mehrangarh Fort. Not only is it a place for an amazing view, but it's a good spot to watch the parakeets flying by in the trees in the evening.
For those who want a unique dining experience, get a taste of royal life by booking a table at Jodhpur's Khaas Bagh hotel. Constructed in the early 1900s by members of the Rathore royal family, this place is literally fit for a king — and one of the royals had a serious thing for cars. Diners and hotel guests can browse the vintage automobile gallery around the yard, then dine in one of the cars themselves.