Hype Daily: Cardi B and Nicki Minaj just escalated their feud and more entertainment news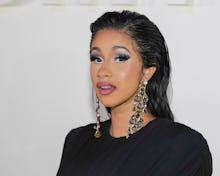 Good morning Hype Daily readers, let's get you a nice warm slice of today's entertainment news to start your Tuesday off right.
Cardi B and Nicki Minaj kept their feud going in a very dramatic way
Things got wild between feuding rappers Cardi B and Nicki Minaj on Monday. First, Minaj went on her Queen Radio show to talk more about the altercation she had with Cardi back in September at a fashion week party. According to Cosmopolitan, Nicki said her friend Rah Ali "beat" Cardi "so bad," and then she said she wanted someone to release tapes of their fight to show what really happened.
Well, that prompted Cardi to respond with a bunch of Instagram videos addressed to Minaj, calling out Minaj for saying contradictory things about their fashion week fight. "Make sense when you talking ... I know what there's footage of, you standing on the wall talking about 'I'm standing right here.' Miss Chun-Li, the Street Fighter," Cardi said in one of the videos. "Get the fuck out of here."
Whew. If that was't already enough to keep up with, the two apparently called a truce later that same day. On Monday night, Minaj posted a tweet saying, "Ok you guys, let's focus on positive things only from here on out. We're all so blessed. I know this stuff is entertaining & funny to a lot of people but I won't be discussing this nonsense anymore."
Cardi responded by posting Nicki's tweet on her Instagram with the caption, "alright then! Let's keep it positive and keep it pushing!" Let's see if the peace lasts.
Pharrell is mad Trump used his song at a rally
On Saturday, just hours after a deadly synagogue shooting in Pittsburgh, President Donald Trump went ahead with a planned rally in Illinois. And during the rally, his team played Pharrell Williams' Oscar-nominated bop "Happy," which, it turns out, wasn't OK with Williams.
Deadline reported on Monday, Williams' lawyer sent a cease and desist letter to the president telling him to stop playing "Happy." "On the day of the mass murder of 11 human beings at the hands of a deranged 'nationalist,' you played his song 'Happy' to a crowd at a political event in Indiana," Williams' attorney wrote in the letter. "There was nothing 'happy' about the tragedy inflicted upon our country on Saturday and no permission was granted for your use of this song for this purpose." No word yet on whether team Trump has responded to the letter.
The cast of the Rent live musical has been announced
Is everyone as excited for this as I am? On Monday, Fox announced the cast for its upcoming live musical production of the '90s rock opera Rent, the Hollywood Reporter reported. It will include Vanessa Hudgens as Maureen, Tinashe as Mimi, Jordan Fisher as Mark, Brennin Hunt as Roger, Kiersey Clemons as Joanne, Brandon Victor Dixon as Collins and Drag Race alum Valentina as Angel.
Also, in a funny twist, a press release about Rent seemed to accidentally confirm Valentina is returning to Drag Race for the upcoming All-Stars season, which hasn't officially revealed a cast yet. Oops!
Lena Dunham is writing a Syrian refugee story?
On Monday, Variety reported Girls creator Lena Dunham has been tapped to write the film adaptation of the 2017 nonfiction book A Hope More Powerful Than the Sea: One Refugee's Incredible Story of Love, Loss and Survival.
Steven Spielberg and J.J. Abrams are coproducing the upcoming film adaptation, which will tell the true story of Syrian refugee Doaa Al Zamel, who was stranded at sea with her two young children while trying to flee Egypt for Sweden. Let's hope that Dunham — who is, you know, not Syrian and not a refugee — does a lot of diligent research for the script.
Put this on your radar: Netflix surprise-dropped a horror anthology
On Monday, Netflix dropped a previously unannounced anthology of five short horror films, the AV Club reported – just in time for Halloween. The collection is called Don't Watch This, and, weirdly, one of the short films stars Antoni Porowski from Queer Eye. Spooky!
This has been Hype Daily, Mic's morning entertainment roundup. It's everything you need to catch up on in the entertainment world and what to look forward to today. Want to receive this as a daily email in your inbox? Subscribe here.