Kanye West is stepping away from politics: "I've been used to spread messages I don't believe in"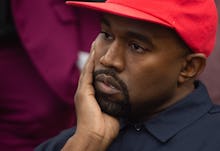 Something or someone finally got to Kanye West.
The rapper, who put his latest album on hold in September to record new music in Africa, took to Twitter once again on Tuesday evening to say he's done being a political puppet, at least for now.
"My eyes are now wide open and now realize I've been used to spread messages I don't believe in," West tweeted. "I am distancing myself from politics and completely focusing on being creative!!!"
It's unclear what led to his political epiphany. But the user @KanyePodcast has a plausible theory. "The tipping point may be yesterday's false reports of Kanye as part of Blexit, and today's attack on the 14th amendment by Trump," the account tweeted.
West's name was plastered all over headlines over the weekend after conservative leader Candace Owens launched her "Blexit" campaign to encourage black people to stop supporting the Democratic Party. Though West has previously touted his support for Owens and Trump, he donated $73,540 to Chicago mayoral candidate Amara Enyia — who is a Democrat — earlier in October.
On Saturday, news reports circulated that West helped Owens design the logo. Owens clarified Monday in a tweet that West only helped design the "X" in the "Blexit" insignia. He denied designing the logo via Twitter shortly before saying he's done with politics.
Earlier Tuesday, Axios reported that President Donald Trump wants to do away with the 14th Amendment's birthright citizenship clause. The Trump administration also announced this week its plans to send 5,200 troops to the U.S.-Mexico border. West also tweeted he believes in "love and compassion for people seeking asylum and parents who are fighting to protect their children from violence and war."