In beauty-obsessed South Korea, plus-size models are fighting to be seen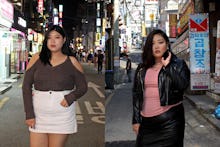 It all started when a photographer stopped Taylor Tak in the streets of London.
"He said, 'You should be a model.' But all I could think was, 'Ew, what do you mean? I'm too fat and short — I couldn't,'" she recalled. "But then I came back to Korea with so many things going through my head."
That was a year ago. Now, the 26-year-old model from South Korea has quite a few big names on her resume: She has been photographed for Cosmopolitan Korea and QueenSize Magazine, plus clothing brands like Curvy Sense, Hotping, Romwe, Fashion Nova and SheIn. But in Seoul's city streets, dotted with racks of one-size-fits-all street fashion and banners for plastic surgery clinics, Tak is no model. She's a fat girl.
"In Korea, fat people are seen as losers," she said, sitting inside of a Gangnam-area tea shop. Korean people are very blunt about weight. I get stares in Seoul — even on my way here today. I see people judging my body, kind of looking at me up and down."
Tak is one of South Korea's few plus-size models, and she's here to create a revolution. She wants to open minds and change harsh beauty standards. But in a nation where "plus" usually means anything over a U.S. size 6 or 7, her mission is much harder than you'd think.
"I want to inspire women and let them know that they are not alone," Tak said. "I want them to know that you don't have to hide anymore and you don't have to feel like you are the worst."
Cruel beginnings
Growing up as a bigger kid can be difficult almost anywhere in the world. But in South Korea, Tak has memories that are especially cruel.
She remembers long summer and winter vacations spent at "diet school," where she — starting at the age of 10 — would work out and eat less than 1,000 calories a day for months on end. Then there was the time she was forced to run laps against a stopwatch to prove she was fit enough to work at Subway — that's right, the sandwich store. Or the time she landed a coveted government job, only to be berated by higher-ranking workers who asked if she'd ever be able to get married "at that weight."
Then there was the time she told her mother about a boy, and she said:
"'Don't trust him. He might want something from you. No man here appreciates fat girls for pure love,'" Tak recalled, shaking her head. "That was my mom's advice. But then again, I don't blame her. Some people here really hate fat women. It's not that they don't like them — they hate them."
Take one look at Korean pop culture, and you know where bigger bodies stand. Kpop stars as young as 15 have been publicly fat shamed by their own fans, while popular TV dramas like Let's Eat 2 are built on storylines of a fat woman losing weight and discovering love (the series' main character is meant to be chubby, but is played by an actress who has a rumored weight of 99 pounds). There's an entire subsection of YouTube that talks about South Korea and body weight, full of "diet secrets," celebrity weight loss listicles and street interviews asking men about their ideal female body type.
In a nation where it's commonly said that women should be no more than 110 pounds, most Koreans would likely agree: There's fat, then there's Korea fat.
"Here, it's all about being skinny," Tak said. "It's not about curves like boobs or butts. It's just about being thin. It's not even just young girls or young men. It's middle-aged men and women, old people — grandmas and grandpas. They're all watching their waistlines."
Plus-size model Jun Ga-young, 27, knows that world. Formerly a professional taekwondo athlete, she started out competing in a sports modeling competition. Now, she has successfully pivoted to Korean underwear brands, online department stores, plus South Korea's Bling and Marie Claire magazines. But even after walking the runway at 2018 New York Fashion Week, she knows there's no place for her at Seoul's equivalent in October.
"The biggest problem for us is that there aren't enough opportunities to model in Korea," Jun said through an interpreter. "Many people have asked me, 'How come you're a model? You're not skinny.' In Korea, people associate weight with success in life. If you lose weight, you'll get a boyfriend, find a good husband, get a good job — your life will dramatically change. No matter what you do in life, you must always be skinny."
Pioneers for body positivity
South Korea has an international reputation for holding the supposed secret to weight loss. A Google search of "Korean diet" will conjure thousands of results, whether it be about the fat-burning powers of kimchi or the herbal medicines or obesity-blasting spas advertised by the Korean government. In 2015, South Korea's domestic weight loss market was worth $2.1 billion — and yet obesity rate for Koreans age 15 and older is one of the world's lowest, at 5.3%.
As a result, plus-size fashion remains on the fringes. And models like Jun or Tak are left to be the frontiersmen for body positivity.
"I just want to show people that we can break prejudice and that plus-size models are also beautiful," Jun said. "But it's kind of rare to see a person who believes in body acceptance. Even slim people always think they need to lose weight here."
"Do I see really see a body positivity movement happening in Korea? Not really," Tak said.
Both Jun and Tak find more acceptance (and modeling jobs) abroad, but the western plus-size market also has misguided expectations of its own: Asian women are far too often stereotyped as skinny and petite, making them an afterthought in the movement to show bigger bodies. Case in point: Mattel's breakout, all-inclusive line of Barbies had "curvy" body types for a variety of skin tones, but no curvy Asian Barbies.
"Sometimes, I wonder: Was this plus-size thing just a trend? And is this trend over?" Tak said. "And if this was a trend, was it over before we even got to see plus-sized Asian models?"
Change is coming
South Korea is on the verge of change, with more and more plus-size figures openly talking about their weight. Along with Jun and Tak, plus models Vivian Geeyang Kim, Yeom Yun-hye and Bae Gyo-hyun have publicly advocated for body acceptance in Korean society. Meanwhile, a few online Korean brands have brought "big size" clothing to the masses — including JStyle, which is touting "I like myself now" as its plus-size tagline.
"The plus-size clothing industry has grown a lot over the last few years," Jun said. "Online shopping malls are starting to carry bigger clothes, and more plus-size women on Instagram are trying to be models."
"Sometimes, I feel like I'm screaming in this society alone," Tak said, "and all I want us plus-size women in Korea to rise up and dare to say it — dare to say that we accept ourselves."
Jinyoung Park contributed to this report.