Candace Owens apologizes to Kanye West, denies saying he designed Blexit apparel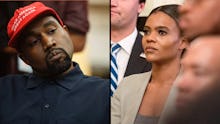 Candace Owens was uncharacteristically absent on Twitter on Tuesday evening after her friend and mentor Kanye West distanced himself from her "Blexit" campaign, which encourages black people to stop supporting the Democratic Party.
The black conservative media personality broke her silence Wednesday after critics mocked her on social media the night before. In her latest statement about the controversy, Owens denied saying West designed the Blexit T-shirts.
"I wouldn't wish the way I felt last night upon my worst enemy," Owens said Wednesday afternoon in a statement posted on her website. "If I had to imagine what it would feel like to have a bullet pierce my heart, it would be exactly like the moment I learned Kanye told the world he felt I had used him... To those that have relished in my hurt and pain: If knowing that I bleed and that I hurt brings you comfort and celebration — then there is no question that you won last night. Celebrate. Be comforted."
It was West who helped make Owens a household name among conservative audiences in April by tweeting his approval of her controversial views. But his Tuesday night tweets showed he took issue with Owens telling the audience at Turning Point USA's Young Black Leadership summit over the weekend that he had a hand in creating the Blexit logo on her campaign's website.
Video from Owens' speech released Saturday shows her holding up a Blexit hat while saying West designed the logo and colors.
"This logo, these colors, were created by my dear friend and fellow superhero Kanye West," Owens said as the audience cheered.
Media outlets seized on her remarks Saturday, posting erroneous headlines about the clothing line.
"I never once said that Kanye designed the T-shirts for BLEXIT," Owens wrote Wednesday. "Kanye was completely right to feel used in that regard and as I have done personally, I would like to publicly apologize to him for any undue stress or pain the effort to correct that rumor has caused him, his business relationships or his family. He simply never designed them."
Owens' fans tweeted their support for her and her Blexit campaign on Tuesday and Wednesday.
"#Blexit was a movement far before Kanye even came out," black conservative YouTuber Brandon Tatum tweeted Tuesday night. "Ye couldn't handle the pressure. He folded. He should have handled this situation in private and not try to save face on Twitter. @RealCandaceO is a true fighter and has the heart to persevere."
Blexit supporter Charrise Lane Black said she still supports Owens with or without West's backing. "You are the mother of this movement," she tweeted to Owens. "#Blexit is not about one person, but ALL OF US1 If Kanye doesn't want to be apart, that's his problem but WE STAND WITH YOU!"
Owens called out her conservative and progressive detractors who she says took joy in her misstep.
"To the scores of cowards on both sides of the political aisle who celebrated last night," Owens tweeted. "You are up against a community of freed hearts, spirits and minds. You cannot defeat #BLEXIT. It is simply our time."