The 9 most infuriating exit deals of all time from companies like Google, Exxon and Fox News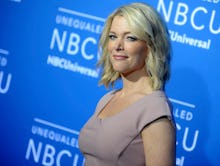 It happened slowly, then suddenly. Megyn Kelly's talk show, Megyn Kelly Today, debuted in September 2017, and the ratings were never terrific. In fact, the show earned 26% fewer viewers ages 18 to 49 for NBC than its predecessor in that time slot, the third hour of Today. It may have kept chugging along, though, if it weren't for her racist discussion of blackface Halloween costumes Oct. 23 — followed three days later by the show's cancellation.
Kelly's demise was dramatic, but another scandalous aspect of her outing? The fact that NBC may have to pay out her contract, an exit deal reported to be around $69 million. So while it may be embarrassing to be fired in front of the whole country, the TV host may be hugely rewarded for hugely messing up. Now she should could get an eight-figure salary to stay home.
Of course, she's not the only powerful figure to receive a massive payout after screwing things up for themselves and their companies. There's plenty of outrage to go around! Here are some more people who were rewarded for their incompetence — or after allegations of criminal behavior.
1. Bill O'Reilly: $25 million
In April 2017, the New York Times uncovered $13 million in settlements that O'Reilly or his employer, 21st Century Fox, had paid to women who had accused him of sexual harassment or verbal abuse. As the face of one of the most highly rated shows on TV at the time, O'Reilly was handsomely paid, however, and his severance was reported around $25 million.
2. Mark Hurd: $34.6 million
Fired after a scandal in which he allegedly used company funds to wine-and-dine and beg an adult-film actress to sleep with him in multiple cities over the course of years, Hurd was handed a $34.6 million severance package. He also received another CEO job offer while he was on his way out the door; he's still the chief executive officer at Oracle to this day.
3. Roger Ailes: $40 million
O'Reilly's former boss, Roger Ailes, was the chairman and CEO of Fox News until July 2016, when he stepped down after a prominent star of his network, Gretchen Carlson, filed a lawsuit against him claiming he sabotaged her career after she turned down his advances. His exit package was around $40 million, and he even stayed on to help the company as a consultant.
4. William Johnson: $44 million
Johnson was the chairman, president and CEO of Progress Energy and signed a contract to maintain that position when the company was purchased by Duke Energy in 2012. Instead, he was fired by the board just an hour into his role, a move that had "little precedent in U.S. corporate history," the Wall Street Journal noted at the time. Don't feel too bad for Johnson, though: He walked away with $44 million in severance for that single hour of work.
5. Andy Rubin: $90 million
Over three dozen Google employees spoke with the New York Times for a recent investigation into how the tech giant protected (and gratuitously paid out) multiple executives who had been accused of sexual harassment — even after their own internal teams found the accusations credible. The most egregious of those? Rubin, the "father of Android," who was reportedly given a $90 million exit package after Larry Page asked him to resign. (Rubin denies both the sexual misconduct and the size of the compensation.) The news of Google's own bad behavior resulted in 20,000 employees staging a walkout in November.
6. Albert Dunlap: $100 million
With the nickname "Chainsaw Al," Dunlap laid off a third of the workforce at Scott Paper in 1993. His newly slimmed-down company got a huge boost in the market and was acquired by Kimberly-Clark shortly after the downsizing. Dunlap received a roughly $100 million golden parachute in the merger for about a year of work; he was later banned from serving in an executive role at a public company by the Securities and Exchange Commission after they alleged he orchestrated massive accounting fraud.
7. Hank McKinnell: $199 million
Unlike some of the other people on this list, McKinnell doesn't seem like a bad person, just an inept one. During his five-year tenure as CEO of Pfizer, shares of the pharmaceutical company fell a whopping 40%, losing tens of billions of dollars for investors. Thousands of employees lost their jobs due to downsizing, and finally McKinnell was fired in 2006. He was awarded an exit package including a pension, severance, stock and unused vacation time, which added up to a stunning $199 million.
8. Lee Raymond: $400 million
As the "strikingly politically incorrect" chairman and CEO of Exxon Mobil from 1993 to 2006, Raymond argued against the concept of climate change and lobbied against any government regulation; he even traveled to China in 1997 to fight the Kyoto Protocol, an international treaty to reduce greenhouse gas emissions. He was paid an average of $144,573 per day for his work, collecting around $400 million in the year he stepped down in a sort-of lump-sum retirement plan.
9. Jack Welch: $417 million
Another climate change denier (he's likened the concept to a socialist plot), Welch famously fired the lowest-performing 10% of his staffers every year when he was the CEO of General Electric and encouraged other leaders to do the same. When he retired in 2001, he walked away with a $417 million exit package.