This Week in Sports and Social Justice: NFL cheerleader kneels; Nike denounces Trump gender policy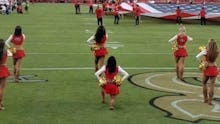 Welcome to Mic's new weekly roundup of news coverage related to activism in the world of sports, both on and off the field. Check us out every week for a summary of the latest headlines covering the intersection of sports and social justice issues.
San Francisco 49ers cheerleader who knelt during national anthem identified
The San Francisco 49ers cheerleader who was photographed taking a knee during the NFL's Thursday Night Football pregame national anthem performance was identified on Saturday.
According to the San Francisco Chronicle, the protesting cheerleader is Kayla Morris from the Bay Area suburb of Antioch. KRON was among the first media outlets to report the cheerleader's identity, which was confirmed by members of Morris' family on Saturday.
Morris is believed to be the first NFL cheerleader to take a knee in protest during the national anthem in the same fashion as former 49ers quarterback Colin Kaepernick, who hasn't played in the NFL since his #TakeAKnee movement took the sports world by storm in 2016.
Her exact reasons for kneeling have not yet been reported. It's also unclear whether Morris will face disciplinary action from the NFL or the 49ers, according the San Francisco Chronicle, which said the team has not responded to requests for comment on the matter.
NBC News photographer Damian Trujillo and football fan Lenny Herold, who was in the stands at Levi Stadium on Thursday night, both snapped photos of the Morris ahead of the game against the Oakland Raiders, according to the Huffington Post.
"No one else that I know of noticed or reacted," Trujillo told HuffPost of the cheerleader's gesture. "She stayed with her teammates for the rest of the game, and they appeared to support her."
Nike stands up for transgender rights
Clearly Nike likes making social justice headlines.
The sports apparel-maker that made Kaepernick one of the faces of its 30th anniversary "Just Do It" ad campaign was one of 56 companies that signed and released a statement Thursday denouncing President Donald Trump's proposed new gender policy.
The Trump administration mandate restricts the federal government to defining individuals as either male or female based on the genitalia they were born with.
In October, the New York Times received a memo stating the U.S. Department of Health and Human Services was leading an effort to develop a legal definition of sex under Title IX. HHS said that sex needed to be defined "on a biological basis that is clear, grounded in science, objective and administrable," according to the Times, which said the memo states disputes about an individual's sex would require "genetic testing."
Critics say the new policy is a deliberate attempt to discriminate against transgender individuals by reversing an Obama administration directive acknowledging that transgender identity is required under Title IX.
"We oppose any administrative and legislative efforts to erase transgender protections through reinterpretation of existing laws and regulations," the 56 companies said in a joint statement on the proposed new policy. "We also fundamentally oppose any policy or regulation that violates the privacy rights of those that identify as transgender, gender non-binary or intersex."
Josh Norman is getting educated on education reform
Washington Redskins cornerback Josh Norman is the Players Coalition's lead on education reform and this week he toured local schools with students and teachers in the D.C. area to learn more about the challenges they face in and out of the classroom. He was joined by former Redskins players Rock Cartwright, Khary Campbell and Antwaan Randle El.
"I'm learning about a little bit of everything," Norman told the Undefeated. "I'm learning that kids that tried to come to school, and it didn't work for them the first time, came back again. And came back again. Now, it's working for us."
Nov. 4, 2018, 10:15 a.m.: This story has been updated.