Two remaining black Republicans in US House fight for their political lives in close midterm races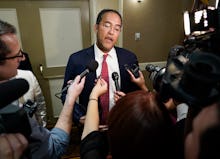 Black Americans made historic gains in the U.S. House of Representatives on Tuesday, but all of them were for the Democratic Party.
On their way to growing their majority in the U.S. Senate and losing control in the House, Republicans in Congress also lost notable ground in terms of the diversity among their elected officials.
U.S. Rep. Mia Love (R-Utah) hasn't ceded her seat in the House yet, but she is trailing her Democratic opponent in Utah's 4th congressional district after becoming the first black female Republican elected to Congress in 2014. With 68% of precincts reporting, Love trails her Democratic challenger Ben McAdams by 2.6 percentage points with 51.3% of voters supporting McAdams and 48.7% supporting Love, according to the New York Times. Incumbent U.S. Rep. Will Hurd (R-Texas) is also struggling to secure a win against Democratic contender Gina Ortiz Jones. If Love and Hurd lose, there will only be one black Republican serving in Congress in 2019 — U.S. Sen Tim Scott (R-S.C.) who was not on the ballot this election cycle.
There were eight black Republican candidates for the U.S. House and one black GOP contender for the U.S. Senate on midterm ballots Tuesday night. All except Hurd and Love, who are in races too close to call, have lost. Here's a breakdown on how they all fared on Election Day.
Will Hurd race against Gina Ortiz Jones too close to call
Will Hurd is a former CIA officer and the only black male Republican serving in the U.S. House of Representatives. He's criticized Trump's policies on immigration, an issue critical to the mostly Hispanic Texas voters in his 23rd congressional district, which runs along the Mexican border.
Hurd is only beating Democratic challenger Gina Ortiz Jones by 689 votes, at the time of publication, according to the Associated Press. An October New York Times/Siena College poll showed Hurd had a 15-point lead on Ortiz heading into Tuesday. In reality, Hurd is leading Ortiz Jones by half a percentage point with 49.2% of voters supporting Hurd and 48.7% supporting Ortiz Jones, according to the New York Times. Third-party candidate Ruben Corvalan, a Libertarian, received 2.1% of the vote.
Ortiz Jones is vying to become the first Filipina-American elected to Congress.
U.S. Rep. Mia Love's Utah race is still too close to call
In 2014, Mia Love became one of the GOP's rising stars after becoming the first black woman elected to Congress as a Republican. But accusations of breaking campaign finance laws dogged Love's re-election campaign in 2018's hyper-partisan political environment, where undecided voters played a pivotal role in her bid to reclaim her 4th District seat in the House.
The race is still too close to call but in the end, Proposition 2, a ballot issue to legalize medicinal marijuana in Utah, may have sealed Love's fate. McAdams has said he supports Prop 2 while Love has said she's undecided on the matter. Democrats and younger voters, who usually favor Democrats over Republicans, also tend to vote in favor of legalizing cannabis, according to Pew Research.
John James loses to Debbie Stabenow
John James is a former U.S. Air Force pilot turned Michigan businessman who was endorsed by President Donald Trump on July 27.
But the political hill was too steep to climb for James who lost to Democratic incumbent Sen. Debbie Stabenow by 5.4 points with 51.9% of votes going to Stabenow and 46.1% going to James, according to the New York Times.
Polls showed James was a long shot to defeat Stabenow, who has served Michigan in the U.S. Senate since 2000 in a state that Trump narrowly won during his 2016 White House run.
Trump's endorsement of James may have inadvertently hurt the West Point grad in a state where the president's approval rating among likely voters was just 37% in September, according to the Detroit News.
Eddie Edwards loses to Chris Pappas
Military veteran and former police officer Eddie Edwards would have become the first African-American elected to Congress in New Hampshire had he defeated Democratic frontrunner Chris Pappas.
Pappas became the state's first out gay man elected to serve on Capitol Hill. He represents New Hampshire's 1st Congressional District, which covers the Manchester, New Hampshire, metropolitan area.
Aja Smith defeated by Mark Takano
Aja Smith is a Trump supporter and a military veteran from Moreno Valley, California.
She couldn't unseat long-term California incumbent Mark Takano after September projections forecasted she only had a 32% chance of beating the Democratic lawmaker, according to FiveThirtyEight. Takano has represented California's 41st District since 2013, according to the Washington Post.
Virginia Fuller loses to Al Lawson
Virginia Fuller is a religious conservative and a registered nurse who is staunchly against abortion rights. Fuller's opponent, incumbent Democrat Al Lawson, who is also black, easily defeated her in a district encompassing the metro Tallahassee, Florida, area. Andrew Gillum serves as mayor of the city.
Liz Matory loses to Dutch Ruppersberger
Columbia University and Howard University grad Liz Matory is a small-business owner and a writer. She's also a former Democrat who ran her latest campaign as a pro-Trump reformer and a "born-again Republican" saying she wanted to help the populist president "drain the swamp."
In 2014, Matory ran to represent Montgomery County in the Maryland House of Delegates as a Democrat, but she came in last place, according to the Baltimore Post-Examiner. A year later she switched parties after serving as a field organizer for failed Democratic gubernatorial candidate Anthony Brown, who lost his bid against Republican Larry Hogan, the state's current governor.
This time around, Matory couldn't defeat long-term incumbent Dutch Ruppersberger in a district Ruppersberger has served since 2003, according to the Washington Post.
Jineea Butler loses to Adriano Espaillat
Originally from Cherry Hill, New Jersey, Jineea Butler was a star basketball player at Long Island University Brooklyn and moved to Harlem in 1998, according to her biography. Her conservative values didn't win over many people in New York's 13th District, where retired U.S. lawmaker Charles Rangel served for 46 years. Espaillat has served the 13th District, which includes Manhattan's Harlem and Washington Heights neighborhoods, since defeating Rangel's handpicked successor Keith Wright in 2016. The district hasn't elected a Republican since at least 1971.
Steve Cohen defeats Charlotte Bergmann
Charlotte Bergmann is a pro-Trump, tea party-style Republican and a former FedEx project manager who was vying to replace Democratic congressman Steve Cohen in Tennessee's 9th Congressional District.
Cohen will begin his seventh term in Congress in 2019.