Ben McAdams declares victory over incumbent Mia Love in Utah's 4th Congressional District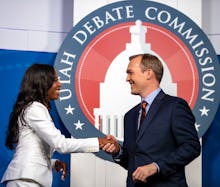 Democratic nominee for the U.S. House of Representatives Ben McAdams has declared victory over Rep. Mia Love (R-Utah) in their hotly contested midterm election battle, the Hill reported. The race was too close to call on Nov. 6 and McAdams' vote total lead over Love is still just 739 ballots, according to the Salt Lake Tribune.
"We have looked at the numbers and the number of votes that are outstanding and we are confident at this point in the results of this election," McAdams said at a press conference Monday, according to Roll Call.
Love — the former mayor of Saratoga Springs, Utah, who broke historic barriers in 2014 by becoming the first black female Republican elected to Congress — has declined to concede to McAdams.
"I would like to express my sincere appreciation to the voters, who along with our family, have been waiting for two weeks to get election results," she said in a written statement, according to Roll Call. "Thank you for your continued participation in this process."
On Nov. 7, President Donald Trump said it was a lack of loyalty to him that likely cost Love her seat in the House after election night vote totals showed Love was losing to McAdams. During a tumultuous White House press conference the day after the election, Trump criticized Love and other Republican House candidates who chose to distance themselves from him and his policies during their campaigns, noting they were the GOP incumbents who struggled most on Election Day.
"Mia Love gave me no love. And she lost. Too bad. Sorry about that, Mia," Trump said.
Love is the daughter of Haitian immigrants who at times found it difficult to strike a balance on cultural issues after Trump became president. She recently condemned his proposed executive order to end the birthright citizenship clause of the 14th Amendment, a measure that would have prevented her from becoming a U.S. citizen had it been enacted when her parents immigrated from Haiti to Brooklyn, New York, where she was born.
"I have always opposed presidential attempts to change immigration law unilaterally," Love said in a statement on her website. "The Constitution gives Congress, not the president, the power to 'establish a uniform rule of naturalization' and the 14th Amendment makes the conditions of citizenship clear: Individuals born in this country are citizens. The executive cannot unilaterally change those facts. I didn't support it under the previous administration and I won't support it now."
Earlier this year, Love condemned Trump's alleged description of Latin American and majority black nations, including her parents' Haitian homeland, as "shithole countries."
However more recently Love has been embroiled in a campaign finance scandal. In February, the American Democracy Legal Fund, a left-leaning government watchdog group, accused her of violating Utah campaign finance laws. CNN reported the trailblazing Republican who ran unopposed during GOP primary season later admitted to raising more than $1.5 million in campaign money for a Republican primary that never took place.
Love and McAdams were engaged in a largely negative mudslinging campaign, spending money on negative ads attacking one another.
"The campaigns became fairly negative pretty quickly," polling expert Jason Perry, director of the University of Utah's Hinkley Institute of Politics, told Mic in a phone interview. "It has been a steady drumbeat from the Democratic candidate."
Perry said both candidates enjoyed strong partisan support from their respective conservative and progressive bases and that normally inactive voters concerned mostly with three propositions on the ballot may have turned the tide in McAdams' favor.
Proposition 2, which addressed legalizing medical marijuana in the state, appears to have compelled Utah locals who normally don't vote to head to the polls, which may have sealed Love's fate, Perry said.
Polls had shown Love was leading McAdams by 6 points in June before McAdams closed the gap in October. Love has voted almost completely along party lines — anti-abortion, against same-sex marriage, in favor of repealing the Affordable Care Act — during her tenure in office, with the exception of Trump's executive policies on immigration such as the president's travel ban and policy on ending temporary protected status for foreign migrants fleeing troubled regions.
Love isn't the only Republican of color who kept Trump at arm's length in 2018. U.S. Rep. Will Hurd (R-Texas), the only black male Republican lawmaker in the U.S. House, also clashed with the White House over immigration policy. Hurd narrowly won his midterm race against Democratic opponent Gina Ortiz Jones.