Severe weather on Election Day is testing voters in several states with key races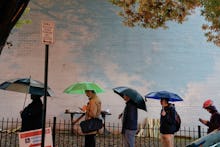 Voters in some parts of the country faced severe weather as they headed to the polls on Tuesday.
A wide swath of the South woke up Tuesday to knocked down power lines after strong storms overnight. The Mid-Atlantic region, including the area around the nation's capital, braced for heavy thunderstorms and possible tornadoes. The northeastern United States was expecting heavy rain and potential flooding. And parts of the north central and western U.S. were anticipating snow.
The weather could hurt voter turnout, which may benefit Republicans in Tuesday's high-stakes midterm elections.
According to a 2007 study, inclement weather on Election Day has tended to help Republicans, as weather events like rain and snow can decrease voter participation — particularly among Democrats. In a 2012 survey by the Weather Channel, more Democrats than Republicans said weather conditions on Election Day would impact whether they voted or not, 27% to 20%, respectively.
At least one Republican has already cited the weather as a potential GOP advantage as polling got underway, with Republican Bob Hugin — who is challenging incumbent Bob Menendez for his New Jersey Senate seat — telling reporters Tuesday the rain was "Republican weather."
"These other guys are going to stay at home, we're going to make it happen," Hugin said Tuesday, according to the New Jersey Globe, a political news site. "It's such a big event. Thank God. God's always looking out for us."
The bad weather began on the eve of the election, with powerful storms felling power lines across the South and leaving about 11,000 people without power, according to the Associated Press.
More storms, including possible tornadoes, were forecasted for Washington, D.C., Baltimore and other parts of the Mid-Atlantic, the AP reported.
Meanwhile, the Rocky Mountain area — along with parts of Idaho, Montana and Wyoming — may see significant snowfall, according to reports. Parts of the upper Midwest, including Minnesota and Michigan, may also see snow, though the accumulation is not expected to be significant.
The Great Lakes region and the East Coast are expecting rain, with some flooding possible in New England and New York.
Photos posted to social media on Tuesday have shown voters braving the elements in lines outside polling places.
But the foul weather may be one more obstacle for voters to contend with on Election Day. There were already reports Tuesday of faulty voting machines, long lines at polling places and accusations of voter suppression.
It wasn't yet clear Tuesday afternoon if the weather would ultimately impact voter turnout, but it had already been blamed for snagging voting machines in North Carolina, where officials say high humidity levels led to problems with machines reading ballots. Officials said those uncounted ballots will be stored in "emergency bins" and that "all ballots will be counted."