Florida passes Amendment 4, restoring voting rights for many formerly incarcerated people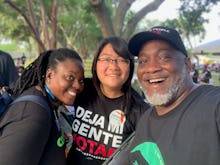 Voters in Florida have cast their ballots in favor of restoring voting rights for qualifying formerly incarcerated people.
The ballot initiative known as Amendment 4 will amend the state's constitution to re-enfranchise an estimated 1.6 million Floridians previously convicted of felonies, according to the Brennan Center for Justice. Those Floridians had their voting rights revoked in 2011 thanks to an executive action taken by the state's outgoing Republican Gov. Rick Scott.
The passage of Amendment 4 does not include individuals convicted of murder or felony sex crimes. The measure restores voting rights for about 20% of the state's black population. This moment is the culmination of years of work from grassroots organizers including Desmond Meade, the formerly incarcerated president of the Florida Rights Restoration Coalition.
To put the measure on the ballot, Meade and his supporters had to collect 766,200 handwritten petition signatures by December 2017.
Florida originally added an amendment to its constitution banning felons from voting back in 1868, according to the New York Times. In 2007, former Democratic Gov. Charlie Crist convinced the state's clemency board to allow former felons to vote. His successor Rick Scott restored the ban in 2011.