Beto O'Rourke, one of the Democrats' biggest rising stars, is now unemployed. What does he do next?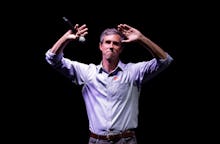 Beto O'Rourke may not have defeated GOP Sen. Ted Cruz in Texas Tuesday night.
But the rising Democratic star made the race exceedingly close, losing just 48.3% to 50.9% — a fact that's leaving many asking what O'Rourke does next, including whether he'll run for president.
O'Rourke vacated his seat in Texas's 16th Congressional District in order to mount his challenge to Cruz. With his disappointing loss, the young rising star among the progressive wing of the Democratic Party will suddenly find himself out of a job come January. But some are reading into a line from his concession speech Tuesday night to speculate that he is leaving the door open to throwing his hat into the 2020 ring.
"I love you more than words can express and that love will persist every day going forward, making sure whatever we have created and changed, and all of us will decide what that means and how far it goes, that it leads something far greater than what we have today and that [every one] of us continues to believe and [make] possible the greatness of the United States of America," O'Rourke said in his concession speech.
O'Rourke's candidacy truly was a game-changer in Texas.
He flipped Tarrant County — the largest urban county in America to be a GOP stronghold — from red to blue, which helped lead to the defeat of Republican Rep. Pete Sessions in the House.
O'Rourke's coattails also helped Democratic Rep.-elect Lizzie Pannill Fletcher oust GOP Rep. John Culberson in the Houston suburbs and made a handful of other Republican House seats exceedingly close.
O'Rourke's bid also catapulted him to the national stage and made him one of the most prolific Democratic fundraisers in history — a profile that could help him raise cash for other Democrats in 2020 or run his own bid if he chooses.
Of course, it's unclear whether O'Rourke would jump into a presidential race immediately after a Senate loss.
But it's not something anyone is ruling out.
"He lost but over-performed, showing the crowds and energy were real," Stu Rothenberg, a nonpartisan political handicapper, said. "I expect him to be on the party circuit now, helping raise money and keep Democratic energy up. I have no idea if he has a presidential run in him so quickly after his loss."