Pedro Hernandez speaks out against bail system that kept him in jail for a year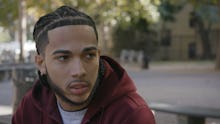 A couple years ago, Pedro Hernandez went to court to handle a traffic summons, but ended up in handcuffs and on his way to jail.
"They searched me, grabbed my ID, and they say, 'Pedro Hernandez? Yeah, you're the right person we're looking for,'" Hernandez said, recalling his arrest on an attempted murder charge that a district attorney later dropped due to a lack of evidence.
But not before Hernandez, then 16, spent a year in New York City's notoriously violent jail at Rikers Island. A judge had set his bail at $250,000, an amount far more than his family could afford.
"I just felt like it was not the right place for me to be, in knowing that I was innocent and I didn't do what they were charging me with," Hernandez, now 18, said in the latest episode of Mic Dispatch. It's his first formal interview since a human rights organization bailed him out of Rikers to call attention to his wrongful imprisonment and to the disproportionate toll incarceration has on nonwhite communities.
As the movement for criminal justice reform picks up steam, some advocates have taken a laser-focused approach to reducing the nation's reliance on cash bail to ensure that people accused and charged of crimes return to court and face trial. Nationally, there are an estimated 465,000 people sitting in jail, awaiting trial, because they can't afford to bail themselves out, leading many defendants to lose jobs, face eviction, fall behind in school or leave loved ones without parents or caregivers. But eliminating cash bail could pose challenges, unless there are alternatives that factor in public safety, law enforcement experts have said.
"To my mind there is no responsible removal of cash bail without sweeping legislative and policy change," Lucy Lang, a former prosecutor in New York City and director of the Institute for Innovation in Prosecution at John Jay College for Criminal Justice, said in an interview. "It's absolutely critical that jurisdictions expand their access to supervised release services. That is absolutely necessary, in order to make sure that public safety is still at the forefront of how this is handled."
Still, many advocates for bail reform say allowing poor and potentially innocent people to languish in jails is unacceptable.
"If you're wealthy, you pay the bail and you go home to your family, to your lawyer, to your career and you've prepared for trial," Kerry Kennedy, president of the Robert F. Kennedy Human Rights group that posted Hernandez's bail, said in an interview. "But If you're living in poverty and you don't have enough resources to make bail for the exact same crime, you're not going home."
Hernandez's bail had been set so high, in part, because the Bronx district attorney who prosecuted his case alleged that he was a gang member and argued that prior arrests for less serious offenses were proof Hernandez posed a risk to the public. Jessica Perez, Hernandez's mother, said the ordeal caused major disruptions and financial hardship for her family.
"It's not only taking a child from your home, it's making you feel less of a mother because you can't protect your child," Perez said in an interview. "It's making you feel like you're not doing what you're supposed to or you're being punished because at the moment you're not rich."
Meanwhile, Hernandez said he experienced things at Rikers that will have long-lasting impact on his physical and emotional well-being.
"Day to day, Rikers was like being a victim of something, every day," he said. "Correctional officers' brutality. They will beat you, they'll twist your wrist, [and] put the handcuffs super tight, to where they cut your wrist. I had 30% of my vision loss in Rikers Island, due to the pepper spray. And it was just like everything in there was scary."
Bail reform advocates said they wouldn't wait for another story like Hernandez's before they took drastic action. In October, a large coalition of grassroots activists groups launched a mass bail out of Rikers. RFK Human Rights reportedly raised millions and enlisted hundreds of volunteers, including celebrity activists, to free hundreds female prisoners and 16- and 17-year-olds who were booked at Rikers. After years of accusations and reports of abuse in the island's jails, the city's mayor has promised to shut them down in 10 years.
"The mass bail out will demonstrate what is possible when it comes to decarceration in New York City," Wade McMullen, the managing attorney at RFK, said in an interview. "We can drop that population to a level where those jails could be closed right now. We don't have to wait 10 or eight more years in order to do so."
Hernandez said he has a message for the thousands of people currently awaiting trial on Rikers.
"Stay strong, don't let them break you, and do what you have to do to deserve your day in court," he said.
Check out this episode of Mic Dispatch above — only on Facebook Watch.
To catch future episodes of Mic Dispatch, follow Mic Dispatch on Facebook Watch. For more stories about the show, visit the Mic Dispatch collections page.