This Week in Sports and Social Justice: This former NFL player got elected to Congress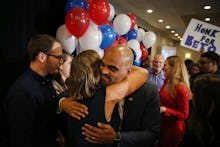 Welcome to Mic's new weekly roundup of news coverage related to activism in the world of sports, both on and off the field. Check us out every week for a summary of the latest headlines covering the intersection of sports and social justice issues.
Ex-NFL player and voting rights advocate Colin Allred wins congressional seat
Retired pro football star and voting rights attorney Colin Allred defeated Republican incumbent Pete Sessions to become just the third African-American to represent North Texas' 30th Congressional District, according to the Dallas Morning News. Allred is also the first Democrat from Dallas County to hold the office since 1992, when Eddie Bernice Johnson was elected.
"This community is looking for change," Allred told supporters during his victory party at the Magnolia Hotel Park Cities in Dallas, the Dallas Morning News reported. "They want new ideas. They want a fresh approach and that's what I want to give them."
Allred was a hometown hero who played linebacker at Hillcrest High School in Texas. He went on to play college football at Baylor before starting his NFL career with the Tennessee Titans in 2006. He retired from the league in 2010 and earned a law degree at the University of California-Berkeley's School of Law before being tapped by the Obama administration as a special assistant in the Department of Housing and Urban Development's Office of General Counsel.
In addition to being a staunch voting rights advocate, Allred ran his campaign on a progressive platform supporting a path to citizenship for DACA recipients and Medicare-for-all.
Ex-Atlanta Falcon gets dragged on Twitter after taking a shot at Eric Reid
Former Atlanta Falcons wide receiver Brian Finneran felt the digital wrath of Twitter users Thursday night after he decided to poke fun at activist athlete Eric Reid.
Reid was recently signed by the Carolina Panthers after allegedly being blackballed from the NFL for a year for kneeling in protest during the national anthem. He was ejected from his new team's game against the Pittsburgh Steelers Thursday night after an illegal late hit to the head of Steelers quarterback Ben Roethlisberger, who was sliding to the ground after a run for a first down.
The foul drew a flag from officials and started a brief on-the-field fight between Panthers players and Steelers offensive linemen, who both ran to defend their teammates — a common custom in the NFL.
"Now Eric Reid can go take a knee in the locker room," Finneran tweeted after Reid was ejected. The digital diss led to immediate dragging by other Twitter users, some of whom were Finneran's former Atlanta Falcons teammates.
Former Falcons running back Jamal Anderson gave Finneran's tweet seven emoji thumbs down.
Former Tennessee Titans wideout Nate Washington tweeted a popular gif from the movie Half Baked.
"BOO THIS MAN! BOO!" the tweet read.
Other Twitter users who were Falcons fans seemed surprised by Finneran's apparent political views.
"Brian Finneran had 5,978 black teammates & managed 2 watch his mouth & never say anything racist," Twitter user Randall Dixon tweeted Thursday night. "Funny how when none of ur former teammates r around u decide 2 tweet ur displeasure 4 those who want them 2 have equal rights when I'm sure u had plenty of time to tell them this."
Reid was quick to apologize to Roethlisberger for the late hit, which he told reporters was not intentional or malicious.
Roethlisberger, who wasn't injured, also told reporters he didn't take it personally.
Thousands sign petition to get Maroon 5 to drop out of Super Bowl halftime show
Thousands of Colin Kaepernick supporters are calling on pop band Maroon 5 to decline performing at the Super Bowl in solidarity with the unsigned free agent quarterback.
"The band has a chance to stand on the right side of history," Vic Oyadeji, who started the Change.org petition, wrote. "If they don't, they will be remembered for choosing to side with the NFL over its players."
Both Rihanna and Jay-Z have declined offers to perform at the Super Bowl halftime show in support of Kaepernick. Now more of his supporters are calling on Maroon 5 to do the same.
So far Oyadeji's petition has more than 28,000 signatures. Oyadeji is the same person who started a petition calling for an NFL boycott in 2017 until Kaepernick gets signed to a new team. He's continued his support of Kaepernick this season.