Federal prosecutors have evidence that Trump was directly involved in illegal hush money payments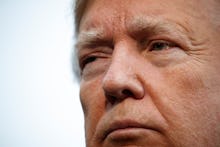 Federal prosecutors have evidence that President Donald Trump was directly involved in the illegal hush money payments to porn actress Stormy Daniels and Playboy model Karen McDougal that lawyer Michael Cohen pleaded guilty to, according to a deeply reported story published Friday afternoon by the Wall Street Journal.
According to the paper, federal prosecutors in the Southern District of New York have evidence that Trump was "involved in or briefed on nearly every step of the agreements," which violate campaign finance laws.
Trump had repeatedly denied that he knew anything about the payments to both Daniels and McDougal. But the White House has since amended Trump's many denials, including in a financial disclosure report filed with the Office of Government Ethics back in May.
And Cohen, in his August guilty plea, admitted that the payments to the women were made "for the principle purpose of influencing the election," — which makes them illegal since they were not reported by the campaign.
Cohen has been cooperating with SDNY investigators, providing them with evidence that could minimize his jail time, which will be determined at a Dec. 12 sentencing, according to the Wall Street Journal.
Cohen told prosecutors that he worked with Trump to come up with the hush money payment to Daniels right before the 2016 presidential election, and that Trump urged Cohen to "get it done," the Wall Street Journal reported.
As for the McDougal payment, David Pecker — the executive of American Media Inc., which made the deal with McDougal — also told federal investigators that Trump was involved in the deal. Pecker has been granted immunity for his testimony before a grand jury.
The Wall Street Journal's report comes as Democrats gear up to take the reins of the House when the newly elected members are sworn in come January. With control of the House Oversight and Government Reform Committee, they can probe the hush money payments.