Stories That Pay Off: Help! I drained my savings and am spiraling into panic.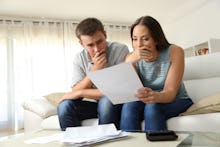 One of the blueprints of adulthood is the act of buying a home. You allegedly save and save until you can afford a down payment. But in this week's Money Confession, one reader confessed to spending nearly all of their saved cash on a house, and is at a loss for what to do next. Money writer Kaitlin Menza dug for some solid advice and spoke to several experts.
Even if you're not ready to buy, renting a house or apartment has its own set of obstacles. One way to skip out on any of these potential money disasters? Consider investing in a money manager.
And finally, if you want to think about all the money you don't have, read our list of the nine most infuriating exit deals of all time — inspired by former Fox News anchor Megyn Kelly.
A home might be the biggest purchase you'll ever make, but it shouldn't eat up everything you have. Still, if you're in this kind of predicament, you can make it work.
Even if you're not ready to buy, renting requires you to sign away thousands of dollars on a new apartment or house. Prepare yourself by studying up on these typical blunders.
Money managers aren't just for people with money — at some point, it's wise to have an expert plan out your financial future. Especially if you have tons of money-related questions. Here's how to figure out if the time is now.
If you think former Fox News anchor Megyn Kelly's potential exit deal is outrageous, meet the nine white men who also walked away with million-dollar payouts. It's a lovely hate read.