Nagoya is the next big destination for food in Japan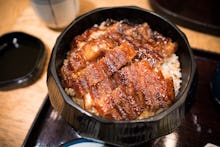 In some ways, Nagoya is a city designed to accommodate our quirks — the Japanese city, easily accessible from Tokyo by bullet train, has a little something for everyone. Automobile and transit fanatics can visit one of the city's many automotive museums, where they can watch futuristic robots assemble cars or test-drive a bullet train using the Shinkansen train driving simulator. Cycling enthusiasts will enjoy the tree-lined streets of one of the world's most bikeable cities. Caffeine lovers have an entire coffee scene to explore, including Komeda Coffee, a Nagoya-based chain with coffee jelly sundaes and more classic fanfare. Nagoya is also home to the world's largest train station, known for its 15th-floor Starbucks with a rooftop garden and city-wide views.
Nagoya is also known for its unique approach to food and its growing influence on the food scenes of several neighboring Japanese cities, like Tokyo and Osaka. Dishes like hitsumabushi eel dish, a porridge consisting of grilled eel over steamed rice, and Ankake spaghetti, pan-fried spaghetti with sausage, green peppers and onions, have helped form the area's striking and original culinary identity.
Go before the crowds descend when Nagoya opens one of its biggest attractions yet: A theme park for Studio Ghibli, the famous animated filmmakers responsible for titles like My Neighbor Totoro, Kiki's Delivery Service and Spirited Away. The park is slated to open by 2022, with rides and fantasy forest trails to stroll through in every season.
The must-try dish
One of Nagoya's most famous dishes is its miso tonkatsu, breaded pork cutlet, often smothered in red miso paste. Yabaton, which embodies the city's busy, industrial vibe attracts long lines of workers during weekday lunch hours eager for a bite of its highly coveted tonkatsu.
The souvenir to buy
What better way to share a culture than through food? The famous confectionaries of Ryoguchiya Korekiyo bakery attract tourists and local foodies alike, especially in the underground Esca shopping center near Nagoya Station. Box sets are available to take home — be sure to try the dorayaki or red bean pancakes.
Insider intel
Nagoya is currently home to a rising craft beer scene with some exciting, social pubs. Try Brick Lane near Nagoya Station, which carries a few Japanese craft brews at a time as well as interesting tastes from other countries.
For more of Mic's Best Places to Travel in 2019, explore our map or view the complete list here.