New Dallas district attorney wants to charge officer with murder for killing Botham Jean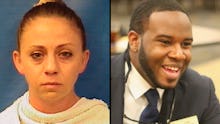 Securing murder convictions against police officers who kill civilians is a tough task for any prosecutor. But it's a challenge incoming District Attorney John Creuzot says he is willing to accept when it comes to Amber Guyger.
Guyger is the 30-year-old former Dallas police officer who was fired on Sept. 24 after fatally shooting a black man named Botham Shem Jean in his own home 18 days prior. On the night of Sept. 6, Guyger was returning home to the South Side Flats apartment complex where she and Jean both lived before she shot and killed Jean. Jean was unarmed when Guyger shot him in his residence, thinking he was an intruder in her home, investigators said.
Faith Johnson, Dallas County's Republican district attorney who lost her re-election bid to Creuzot on Nov. 6, charged Guyger with manslaughter on Sept. 9 when Guyger turned herself into police before being released on $300,000 bond. Johnson wants to stay on to prosecute the case against Guyger, but Creuzot doesn't think Jean's homicide constitutes manslaughter.
He thinks it was murder.
"Manslaughter is an inappropriate charge, based on the circumstances as I understand them," Creuzot told reporters on Thursday, according to NBC News. "Once I get in there and I get everything in front of me and it appears the most appropriate charge is murder, then that's the charge we will go forward with."
Thousands of American police officers have killed civilians both on and off the job since 2005, according to a report by the Washington Post and Bowling Green State University criminal justice professor Philip Stinson, whose research focuses on crimes committed by law enforcement. But since 2005, only three officers have been convicted of murder. Two of those convictions happened in 2018. Former Texas police officer Roy Oliver was sentenced to 15 years in prison for the 2017 murder of 15-year-old Jordan Edwards. In October, ex-Chicago police officer Jason Van Dyke was found guilty of murdering LaQuan McDonald in 2014.
Stinson acknowledged that murder convictions for police are rare.
"My guess is that the prosecutor believes it is the right thing to do to achieve justice," the professor said in an interview with Mic on Tuesday. "In these cases, the norms of case processing in the courts don't seem to apply, so it is very risky no matter what a prosecutor does."
One common factor in securing murder convictions for officers is attempted deceit, according to Stinson. Both Oliver and Van Dyke or their fellow officers initially lied about the circumstances of their fatal shootings, which Guyger has been accused of doing as well.
Guyger initially told investigators Jean's door was open before she entered his apartment, a claim that civil rights attorney Lee Merritt told Inside Edition doesn't appear to be possible. Merritt would represent Jean's family in an anticipated civil lawsuit against the Dallas Police Department for the wrongful death of the 26-year-old.
"If [prosecutors] can show that she lied about the circumstances of why she went to the apartment, the prosecutor might have a good case to prove her intent," Stinson said. "If so, murder would be the appropriate charge in this case."
Texas law states a defendant can be charged with murder if he or she "intentionally or knowingly causes the death of an individual," or "intends to cause serious bodily injury and commits an act clearly dangerous to human life that causes the death of an individual."
Merritt agreed with Stinson and Creuzot that murder is the appropriate charge. He said prosecutors should try for a murder conviction out of moral principle even if they lose and Guyger walks free.
"We can't change the definition of murder in order to accommodate a social tolerance of brutality," Merritt told Mic on Tuesday. "I'd rather lose on the right charge then win on the wrong charge. The facts are consistent with murder."