There's a story the movie 'Green Book' doesn't tell that audiences also need to hear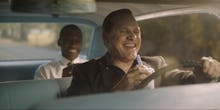 Going on vacation could have been a humiliating and perilous journey for black Americans during the mid-20th century, when flourishing automobiles and interstate highways made long-distance travel and leisure a premium part of the American experience.
It wasn't just the lynchings nor the race riots. It was also difficult just to find a hotel or restaurant where the staff didn't treat you like dirt (or worse), and not just in the South.
Harlem postal worker Victor Hugo Green and his wife, Alma, helped solve that problem in 1936, when they published the first Negro Motorist's Green Book. Their periodical listed restaurants, hotels, renters and vacation destinations friendly and hospitable to African-Americans, warning them away from hostile territories and bigoted service providers. It was a precursor to the travel advisories warning black foreigners to be wary of police or the NAACP alerts about discriminatory treatment on American Airlines that we have in the present.
"It has been our idea to give the Negro traveler information that will keep him from running into difficulties, embarrassments and to make his trips more enjoyable," Green wrote of his creation in a 1949 edition, published the same year a black man named Malcolm Wright was lynched in Mississippi for failure to yield in the road to three white men. "There will be a day sometime in the near future when this guide will not have to be published ... but until that time comes we shall continue to publish this information for your convenience each year."
One might imagine that the first major movie released about Green Books would chronicle former black classmates enjoying a rare excursion to France together, or a vacationing black family driving on a highway reading excerpts about a new bed and breakfast near South Beach.
Instead, the story told in the new film Green Book — the critically acclaimed drama starring Viggo Mortensen and Mahershala Ali, which opens in theaters nationwide Wednesday after a recent run in select theaters — explores the black experience through the eyes of a white man, a tried-and-true formula with a proven track record of box office and critical success.
The film tells the true story of working-class Italian-American tough guy Tony "Lip" Vallelonga's stint as the driver for Dr. Don Shirley. Shirley is a renowned, wealthy and refined jazz pianist of Jamaican descent who's embarking on a concert tour. Their eventual bond is the movie's source of strength, as both lead actors are in fine form throughout.
The atypical odd couple from New York City turns heads and raises eyebrows while trekking through the Midwest and the segregated South, where Shirley is forced to endure the senseless, denigrating realities of Jim Crow. Vallelonga experiences most of these indignities in third-person, using his wit and an occasional right cross to keep his uncompromisingly dignified client alive and out of trouble.
The film is certainly enjoyable and well-intentioned. Filmmaker Nick Vallelonga co-wrote the screenplay about his dad and the valuable lessons he learned about racism from his extended trip with Shirley, who became the elder Vallelonga's lifelong friend.
But the movie is also cliché, reductive and omitting. What's most unfortunate is the story of the actual Green Book is never really told despite the film's title, which director Peter Farrelly revealed he wasn't sure about during a recent interview with Vulture.
"I was concerned because it's not really about the Green Book, but the Green Book's in there throughout, and it just seemed to be the right title," Farrelly said during the interview.
It was black actress Octavia Spencer, who Farrelly said he brought in as an executive producer on Green Book to give the film a black woman's perspective, who convinced Farrelly to stick with the title.
"I called her because people were wondering if we should call it something else, and she said, 'No fucking way; do not call this something else, because we want people to know about the Green Book,'" Farrelly said, quoting Spencer. "Most of my black friends hadn't heard of it. So she said, 'It's important to get it out there. Let people know about it.'"
In that, the movie succeeds, even if the Negro travel guide is reduced to a mere plot device used to frame the protagonists' journey. The Green Book is rarely mentioned by name, most notably when a staffer from Shirley's record label gives it to Vallelonga.
Later in the film, the gluttonous Vallelonga reads the Green Book briefly while trying to figuring out where to take his client, before casually tossing the book in a small mound of food and garbage he's piled up in his passenger's seat during his highway drive.
"It was kind of a throwaway prop in the film almost exclusively handled by Tony," Maira Liriano, associate chief librarian at the Schomburg Center for Research in Black Culture in Harlem — which is home to the largest collection of Green Books in the United States — told Mic during a recent press call. "It doesn't really provide enough of the story of the African-Americans trying to make things work at such a difficult time."
The real Green Books didn't constantly remind readers of looming terror — no one wants to think about that on vacation. Rather, they offered positive reviews of places offering desirable accommodations, where people could live their best lives in spite of demeaning circumstances.
The inaugural Green Book only detailed locales in New York City, but the books became so popular, Green eventually expanded, hiring writers to cover cities and travel hot spots across the nation. His books were published annually and sold more than 2 million copies a year at their peak, according to Liriano.
"The Green Books expanded as airport travel became more common, to help African-Americans see the country and the world and enjoy the pleasures of traveling for pleasure," Liriano said. "It allowed at least some semblance of normalcy. You could travel to places like national parks and be able to plan something with some sort of establishment where you knew you would be welcomed."
The movie Green Book takes the baton from similar films about race relations like The Help and most notably Driving Miss Daisy, which are also primarily told from the perspective of white characters, perhaps to make the subject matter more palatable to white viewers.
But it's dubious in 2018 to assume most white Americans will be turned off by movies centered on a black person's view of the black experience when films like Black Panther and Get Out have enjoyed major box office success in addition to critical acclaim in their own right.
"I regret the film is called 'Green Book' when it really is not looking at why the Green Books are important from the perspective of African-Americans," Liriano said.
The new film might indeed raise overall awareness of Green Books, but if Hollywood ever decides to return to this subject matter again, those already familiar with the Negro travel guides would likely welcome a more holistic take on their history.