This Texas college professor called police on a black student for putting her feet up in class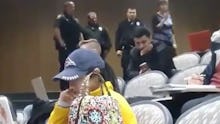 A University of Texas at San Antonio college professor became the latest person to call police on a black person for a nonemergency issue Monday after one of the professor's black students allegedly propped her feet up on the lecture hall chair in front of her during class.
Biology professor Anita Moss was identified as the instructor who called police on the black female student named Paige Burgess. Burgess came forward on Twitter, claiming to be the student Moss removed from class.
UTSA president Taylor Eighmy sent a letter to students on Wednesday saying school administrators are conducting two separate investigations into the incident, one for "potential discrimination" and another on "classroom management."
He also said Moss won't be teaching class again anytime soon.
"For the best interest of all involved, the faculty member's classes will be taught by another faculty member for the remainder of the semester," Eighmy wrote. "The student involved in the incident has been welcomed back to class and offered support services. Once the two investigations are complete next week, appropriate administrative action will be determined."
UTSA student Apurva Rawal captured the incident on his cellphone video before tweeting it out at 10:29 a.m. on Monday.
"So this happened today in class," Rawal tweeted. "A girl had her feet up and the professor called the police after calling our class uncivil."
Rawal confirmed via Facebook Messenger that Burgess was the student Moss targeted Monday.
"I have spoken to Paige and the two other students who accompanied her to speak with the College of Sciences' administration on Monday, and I would neither confirm nor deny the existence of a racial bias in this incident, because that is the job of UTSA's investigation, not mine," Rawal said. "However, there has been a pattern in this country of white individuals using their institutional power against people of color by involving the police in situations that otherwise would not warrant law enforcement. It is because of this unfortunate trend in our country that I would not begrudge Paige or any other [person of color] who witnessed this event to feel as if there was racial bias involved, or at least ignorance to a racial disparity on the part of Professor Moss."
In his tweets, Rawal went on to explain that Moss stopped her class and stepped out to call police even though the student she complained about wasn't talking or interrupting the class lecture.
"The class before this professor went on a whole tirade about how uncivil we all were because a few students were on their phone or not paying attention," Rawal added in another tweet. "[The professor was] cutting lecture time for the rest of us because her ego was bruised."
In the video, uniformed officers can be seen entering the lecture hall and talking with Moss, who points out the student. The officers walk over to the student who calmly stands and walks out of the room with them without saying an audible word.
About an hour after Rawal's tweet went viral on Monday, Twitter user @FavoritePaigeee tweeted her gratitude to Rawal for recording what happened and tweeting it out.
"Thank you for this thread Apurva," the student tweeted. "I seriously can't thank my class enough for this. They literally stood up for me after I was escorted out by 3 officers and called [the professor] out for being disruptive to them as well this whole semester. Completely overwhelmed and thankful."
UTSA wouldn't confirm whether or not Moss has been suspended while the investigation into the incident takes place.
Some Twitter users denounced Moss on Tuesday and Wednesday.
Dr. Kate Shaw dubbed Moss #BioBetty, adding the UTSA professor to the infamous ranks of Permit Patty, BBQ Becky and dozens more white Americans who have become internet famous this year after calling police on black people for minor infractions.
"Pretty straightforward here," Shaw tweeted. "[African-American] student stretched out in class not bothering anyone, talking or disrupting class & racist [white woman] bio [professor] called campus police... not 1 student policy says ANYTHING about students not being able to put feet up on the back of chairs. #BioBetty"
Others said the professor should lose her job over the incident.
"She should be fired immediately," a user named Bella Pink Patti tweeted Tuesday night. "Jesus Christ, the class wasn't even full."