Who's Sorry This Week? Armie Hammer, Pete Davidson and more public apologies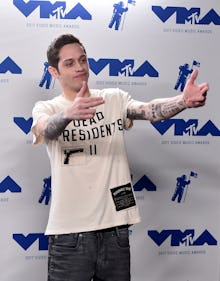 Salutations and welcome to another exciting edition of our weekly apology roundup. In Who's Sorry This Week? Mic tracks down the most prominent mea culpas from celebrities, companies and other public entities trying to make amends for their various screw-ups.
Let's examine this week's public mistakes.
Armie Hammer is sorry for his tweet about Stan Lee tributes
Call Me by Your Name actor Armie Hammer is very sorry for his tweet criticizing fellow celebrities who mourned comics legend Stan Lee by posting photos of themselves with Lee.
After Lee's death at the age of 95 on Monday, tons of celebs posted photos of themselves with Lee along with messages mourning his death. In a since-deleted tweet, Hammer slammed the tributes. "If Stan impacted [your] life (ie. All of our lives) with his work, post his work that touched you the most," he wrote. "Posting a [selfie] makes his death about you and how cool you felt taking a picture with him," People reported on Thursday. Well, apparently, fellow actor Jeffrey Dean Morgan called Hammer out, saying his tweet made him look like an "asshat."
Hammer apologized on Thursday, thanking Morgan for calling him out and saying the he wanted to "apologize from the bottom of my heart."
Hammer also said he will be working on his "Twitter impulse control," which is a skill we should probably all hone.
Pete Davidson is sorry for his joke about Rep.-elect Dan Crenshaw
On the latest episode of Saturday Night Live, cast member Pete Davidson issued a rare on-air apology to military veteran and Rep.-elect Dan Crenshaw after he made a bad joke about Crenshaw's disability on an earlier episode. On Saturday night, Crenshaw showed up on the "Weekend Update" segment alongside Davidson.
Davidson apologized on behalf of the show and himself, and then Crenshaw roasted Davidson, getting in some jokes about Davidson's blue hair, his ex Ariana Grande and his comedy skills.
Crenshaw, a Republican recently elected to serve as a representative from Texas, has been linked to a far-right Facebook group that pushed conspiracy theories about "Pizzagate," called Islam a "cancer" and called Black Lives Matter "black supremacy."
Amy Schumer is sorry she had to cancel a Dallas show
Comedian Amy Schumer is very sorry she had to cancel a stand-up show in Dallas because she's been hospitalized for severe nausea, the Associated Press reported on Thursday. The comedian, writer and actor, who is pregnant with her first child, apologized in an Instagram post on Thursday.
"Texas I am so deeply sorry," Schumer wrote in her caption. "I have been really looking forward to these shows. I have to reschedule. I am in the hospital. I'm fine. Baby's fine but everyone who says the 2nd trimester is better is not telling the full story. I've been even more ill this trimester. I have hyperemesis and it blows. Very lucky to be pregnant but this is some bullshit! Sending so much love to the doctors and nurses taking great care of me and Tati! They are cool as hell! And Texas I am really really sorry and I'll be out there as soon as I'm better."
Hyperemesis gravidarum is a complication of pregnancy where pregnant people experience severe vomiting and nausea, sometimes requiring hospitalization. Notably, Duchess Kate Middleton experienced the complication during all three of her royal pregnancies.
K-pop band BTS is sorry for wearing a swastika hat in an old photo shoot
The team behind the K-pop group BTS apologized after photos surfaced on social media from an old photo shoot showing one of the members wearing a hat with a swastika and a Nazi eagle on it, E! News reported on Tuesday.
In a Facebook post, Big Hit Entertainment, which manages BTS, wrote, "We would like to offer our sincere apologies for inadvertently inflicting pain and distress to anyone affected by totalitarian regimes in the past by failing to strictly review the clothing and accessories that our members were made to wear, as well as to anyone who may have experienced distress and discomfort by witnessing an association of our artists with imagery reminiscent of political extremism."