This Week in Sports and Social Justice: Black police leader defends Nike and Colin Kaepernick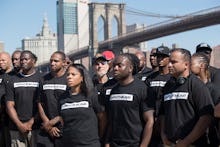 Welcome to Mic's weekly roundup of news coverage related to activism in the world of sports, both on and off the field. Check us out every week for a summary of the latest headlines covering the intersection of sports and social justice issues.
National Black Police Association leader shares why she and other officers are standing up for Nike and Colin Kaepernick
The Undefeated recently talked with Lt. Sonia Y.W. Pruitt, who's also the chair of the National Black Police Association, about the group's support for Nike and its pitchman Colin Kaepernick.
Pruitt took issue with other police organizations' statements in September that condemned Nike for ads that starred Kaepernick. The National Association of Police Organizations, a coalition of U.S. police unions, went so far as to call for Nike boycotts over the ads.
"In featuring Mr. Kaepernick in the 'Just Do It' campaign, Nike grossly insults the men and women who really do make sacrifices for the sake of our nation," NAPO chairman Mark Parker wrote.
Amid the outrage, Pruitt wrote her own letter on behalf of her organization and its members, to let Nike CEO Mark Parker know that not all officers feel the same way about Kaepernick.
"The NBPA believes that Mr. Kaepernick's stance is in direct alignment with what law enforcement stands for — the protection of a people, their human rights, their dignity, their safety and their rights as American citizens," she wrote.
Pruitt told the Undefeated that many black officers across the country have a different view of Kaepernick because of their own lived experiences as African-Americans.
"Just because we all wear a uniform doesn't mean that we all think alike," she said.
This isn't the first time black police officers have voiced their support for Kaepernick. More than 50 New York City police officers spoke out on Kaepernick's behalf in August 2017.
Retired Dallas Cowboy set to become first known NFL player to marry a man
Retired Dallas Cowboys linebacker Jeff Rohrer is marrying his partner Joshua Ross on Sunday. It's the first same-sex marriage for an NFL player on record, according to the New York Times.
Rohrer spoke out about his sexuality for the first time in an interview with the Times that was published on Wednesday. Afterward, he said he received many phone calls from people offering words of encouragement.
"There was so many people calling and reaching out and being so kind and supportive," Rohrer told CNN. "I think [I] set the record for most times crying in one day."
Rohrer played seven seasons with the Cowboys during his time in the league. He said he never planned to be a trailblazer for gay athletes.
"Somebody had to break the ice," Rohrer told CNN. "It's not the reason Josh and I did it. We did it because we fell in love and wanted to get married. ... This hopefully will open the door for other people to feel more comfortable knowing people will be supportive."
A wave of racist incidents is taking place at high school football games across the U.S.
USA Today recently interviewed several top high school football players across the country about racist incidents they've experienced during the 2018 season.
Taulia Tagovailoa of Thompson High School in Alabaster, Alabama, who's committed to play college football for the University of Alabama, said he was subjected to bigoted taunts from at least one person in the home team's stands during the second half of a recent road game.
"It's crazy that the person felt comfortable enough to say things in a crowd in public," Tagovailoa told USA Today. "I'm not naive, I know there are racist people, but still."
Ballard High School administrators in Louisville, Kentucky, apologized after a game in September, when students in their team's stands passed around a watermelon allegedly to taunt the black players on the opposing team from Louisville's Central High School.
CHS wide receiver U'Kari Baker was on the field when the incident occurred and said he "couldn't believe it."
"I still can't," Baker said. "It's hard to put into words, really. I'm a 17-year-old black teenager and I had never experienced racism before. It's hard to believe this still is still going on in 2018."
These are just two occurrences that are part of a troubling pattern of overtly racist fans and players, according to USA Today. During another incident that drew national headlines in September, students from Aliso Niguel High School in Orange County, California, held up signs that said "Build the wall," "We will Trump you," and "It's not a great day to be Mexican now, is it?"
Aliso Niguel's student body is majority white. Santa Ana's students are almost 99% Hispanic, according to the Orange County Register. Santa Ana's principal, Jeff Bishop, complained about the incident in since-deleted Facebook posts, according to the Los Angeles Times.
People in Niguel's home stands also allegedly chanted "USA! USA!" after their team scored a touchdown.
"They're chanting 'USA' like it's a game against another country, like it's against Germany or against Mexico," Bishop told the Register.
Aliso Niguel's principal, Deni Christensen, later told the public that students and fans created the signs to commemorate the school's annual "red, white and blue" game. Signs concerning Trump eventually were taken away by school administrators, she said. Others referencing red, white and blue were intended to celebrate American patriotism, not to denigrate Santa Ana's players, according to Christensen.
"This type of game is intended as a patriotic celebration and is common in Orange County," Christensen said, according to the Mercury News.
Yet another incident took place in Ohio on Oct. 5, when players from Mansfield Senior High School traveled to neighboring Ashland High School for a game against the Arrows. The visiting team's predominantly black players were gifted with bananas in their locker room. Ashland school administrators later apologized for the incident in a post on Twitter, saying the bananas were intended as a "gesture of kindness."
According to the tweet, the yellow fruits were leftovers from the school cross-country team's Banana Fridays, a 20-year tradition of eating bananas before the team's Saturday competition, which took place on Oct. 6.
"We leave the box of whatever is left in the locker room each week in hopes that the football team will eat them if they like, so as to hopefully not waste them," the cross-country team's coach said, according to the Ashland school's tweet.
Tufts University professor Daniel Drezner said situations like these "are more noticeable" in the era of President Donald Trump.
"There are two ways to look at it," Drezner told USA Today. "One way is that it's always been a problem, it's just that we're beginning to notice it now. ... The other possibility is that Trump emboldens this type of behavior. I think it will get better because, eventually, Trump will move from the stage. [Also], everyone who tries to act like him winds up paying a far higher price than he does because everyone else is not the president."
Becky Lynch and Ronda Rousey continue blazing trails in the WWE
"Rowdy" Ronda Rousey and Becky "The Man" Lynch are expected to make history in April by becoming the first women to headline Wrestlemania, according to Deadspin.
Pro wrestling greats like Hulk Hogan, "Macho Man" Randy Savage, the Undertaker, The Rock and "Stone Cold" Steve Austin have had legendary matches at Wrestlemania, the Super Bowl of pro wrestling. But a match between two or more women has never been the main event.
Lynch is currently the women's champion of the WWE's weekly Tuesday night Smackdown telecast. Rousey is the women's champ of the weekly WWE Raw show.
The two rivals were scheduled to settle their ongoing feud during a match at the wrestling league's annual Survivor Series Pay-Per-View event on Sunday. But WWE chair Vince McMahon decided to postpone the women's match due to Lynch's injuries, which occurred after a behind-the-scenes melee with Rousey during Raw went viral on social media.
After arm-barring Rousey using the former UFC champ's own signature, submission finishing move, Lynch and her fellow women of Smackdown brawled in the ring in a battle royale with Raw's female wrestlers. Lynch ended up with a broken nose and a severe concussion, according to McMahon.
The entire episode made Lynch and her bloody face a Twitter trending topic, on which the WWE may be hoping to capitalize. Now Deadspin is calling Lynch the WWE's biggest star, regardless of gender.
Women's pro-wrestling has come a long way since the days when "divas" mostly served as eye candy for men in and outside of the ring.
During her time in the UFC, Rousey was credited with bringing women's MMA into the mainstream. She was every bit as marketable as Mike Tyson in his heyday. Since leaving the mixed martial arts league for the WWE, Rousey has had a similar effect on women's pro wrestling. Her recent rivalry with Lynch appears to be helping the cause.