Gab just booted white supremacist Patrick Little for anti-Semitic threats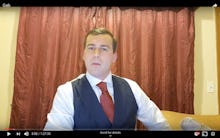 The anti-Semitic rhetoric of white supremacist Patrick Little, the failed Republican U.S. Senate candidate behind the "Name the Jew" campaign, was too much for Gab on Tuesday.
The social media website said Little had crossed the line from hate speech into threatening speech and he was booted as a result, according to a post on the company's Gab profile page on Tuesday. Gab also tweeted out the statement on the company's Twitter profile.
"Earlier today, Gab took the difficult decision to permanently ban the @Patrick_Little account from our site," the company said. "This decision was not taken lightly. The @Patrick_Little account contained a great deal of what could be described as outrageously offensive speech, or 'hate speech'. However, the account was not banned for posting hate speech."
In his most recent posts on Gab, Little mulled whether or not Tree of Life synagogue shooter Robert Bowers was justified in killing 11 Jewish worshippers in Pittsburgh on Oct. 27. Screenshots of posts from Little's Gab account were posted on Twitter on Monday by Storyful reporter Michael Edison Hayden. Little later confirmed on YouTube that the Gab posts were his.
"I have thought about the Bowers issue at length," Little posted. "Nelson Mandela openly supported and participated in terrorism, and the Jews who supported him canonized him in the media... At what point is force against Jews legitimized?"
According to Gab, Little, who has a history of identifying and targeting Jewish individuals on social media and in the real world, recently engaged in similar tactics on its site. This type of doxxing was the subject of the 2017 federal court case Gersh v. Anglin after Daily Stormer founder Andrew Anglin encouraged his supporters to harass Jewish real estate agent Tanya Gersh. A judge later ruled Anglin's speech was not protected under the First Amendment. Gab described these circumstances as a "true threat or harassment scenario."
"Gab will not hesitate to take immediate action to enforce our community guidelines," the company said on its site and on Twitter.
Little denied doxxing anyone on Gab during a YouTube livestream posted a few hours after his Gab account was terminated.
"They provided no link to the tweets or the Gab posts that got me removed from Gab," he told his YouTube followers. "All I know is a bunch of Kosher people with a bunch of Kosher money came in and got involved with the hosting of Gab recently and they were deleting all of my followers, my big followers."
A Nov. 5 IndyBay report including screenshots of posts made on Little's Gab account shows he has previously threatened to destroy a Holocaust memorial and to "raise Jews as livestock" for "ritual death and torture."
"No amount of suffering could repay, eye for an eye, the debt the jew owes the world," Little said in one of his posts.
But Gab didn't delete Little's account until his recent posts about Bowers, whose anti-Semitic killing spree recently made the company the subject of national scrutiny. Gab was forced off GoDaddy's servers after it was revealed Bowers posted anti-Semitic rhetoric on the site before killing 11 Jewish worshippers in Pittsburgh. The company recently relaunched its platform on an Epik domain server after doubling down on maintaining its pro-First Amendment pledge to tolerate hate speech.
Gab did not respond immediately to emailed request for comment.
Though he is not on Gab any more, Little continues to use his Twitter and YouTube accounts. His account Citizens to Elect Little has posted anti-Semitic rhetoric in the past, and he has called for Jews to be removed from the U.S. on the YouTube channel "Goy Talk." That account was recently deleted by YouTube, but was recreated in the last 24 hours.
The Southern Poverty Law Center said Gab, Twitter and YouTube should adopt its new Change of Terms policies to keep folks like Little from inspiring folks like Bowers and alleged pipe bomber Cesar Sayoc to commit acts of terrorism.
"Social media platforms have a tremendous impact because of their ability to amplify extreme ideas from the fringes," Heidi Beirich, director of the SPLC's Intelligence Project, said in a statement about the Change of Terms initiative. "Internet companies must do more to ensure that they are doing their part to combat extremism and hate, and take the threat of hate and extremism on their platforms more seriously."