Chief Justice John Roberts offers rare rebuke of Trump's attack on judges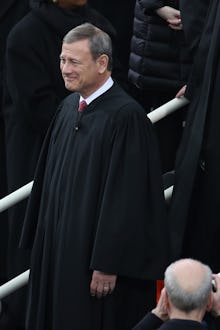 Supreme Court Chief Justice John Roberts on Wednesday issued a rare rebuke of President Donald Trump, condemning Trump's claim that the 9th Circuit is an "unfair" court.
"We do not have Obama judges or Trump judges, Bush judges or Clinton judges," Roberts said in a statement to the Associated Press. "What we have is an extraordinary group of dedicated judges doing their level best to do equal right to those appearing before them."
Roberts comment came in response to Trump's claim on Tuesday that "every case" that goes to the California-based 9th Circuit Court of Appeals is an "automatic loss" for his administration.
"The 9th Circuit is really something we have to take a look at because it's not fair," Trump said Tuesday before departing for his Mar-a-Lago resort for the Thanksgiving holiday.
His comment came in response to a ruling from a federal judge in San Francisco that temporarily blocked his changes to how immigrants could seek asylum in the U.S. The judge, Jon S. Tigar of the U.S. District Court in San Francisco, is not on the 9th Circuit Court of Appeals. However if Trump wanted to appeal the ruling, that is the court that would hear the appeal.
Trump called Tigar an "an Obama judge," an effort to diminish Tigar's ruling.
Supreme Court justices rarely wade into politics, so the fact that Roberts came out against Trump's comment in a statement sent directly to the media is noteworthy.