Common's prison concert tour inspires incarcerated people on their path to rehabilitation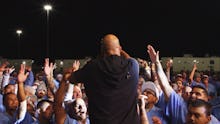 CHOWCHILLA, California — Grammy Award-winning rapper and activist Common has never served time in prison. But he has had an epiphany about the lives of hundreds of thousands of men and women incarcerated in the nation's prison systems.
Their stories aren't being told accurately to people on the outside, he said.
"Before I got to come into prisons, I would have never known — these are some people who are teaching me things about life that I didn't know I needed to know," Common said from Valley State Prison during an interview for Saturday's episode of Mic Dispatch.
In October, Common put on three live performances at facilities located in remote parts of California's Central Valley. He met with groups of currently incarcerated men and women, some of them acknowledging crimes as serious as murder. Others said they were convicted of offenses related to their experiences with poverty, childhood neglect and addiction. Common said there's deep desire among incarcerated men and women to change public perceptions about prison, from a place where criminals become even more hardened to a place where reconciliation, rehabilitation and inner peace are realities.
That shift in perception seems more possible now, as the prison reform movement picks up momentum in the White House, in Congress and in statehouses. Bipartisan federal reform legislation, that includes a proposed expansion of rehabilitative programs in prisons, has the support of President Donald Trump, who leads a country incarcerating 2.3 million people, more than any other nation. Decades of mass incarceration policy and uneven access to therapy, education and job training inside of prisons made it likelier that a resident would eventually return to the facility, if he or she ever got out, according to reform advocates who accompanied Common at the prisons in October. Flexible sentencing guidelines and increased clemency won't reduce recidivism, if rehabilitative services and re-entry support aren't also prioritized, the advocates said.
For his part, Common said he wants to encourage incarcerated people on their transformations, while also supporting the work of activists who do in-reach programs at prisons.
"I want to address you as kings," Common said, speaking to more than a thousand men gathered at a stage that some of them helped construct that morning at Valley State Prison. Nearly all of the residents wore loose-fitting, baby blue-colored shirts and navy blue pants bearing the words "CDCR PRISONER" on their backs and legs.
As a six-piece band played an overture into Common's 2016 song "Black America Again," he said: "For all my people that came from the ghetto, I want to say, we're going to write a new story. This is a new story, a new narrative we're going to tell together. And I believe that each and every one of you is going to write that new story for yourself."
Common takes hope on the road
Common launched the Hope and Redemption Tour in 2017. It's a concert and community engagement campaign organized by his new nonprofit organization, Imagine Justice. The tour is made possible, in large part, because of a partnership with Scott Budnick, the executive producer of the Hangover film franchise, who serves on an advisory board that promotes rehabilitative programming inside of the juvenile and adult facilities run by the California Department of Corrections and Rehabilitation.
CDCR incarcerates more than 128,000 men and women. According to the most recent and available data, 66% of people released from a California prison return within three years. Prison facilities in California are overcrowded, in some instances, sleeping eight residents to a cell. In 2011, the Supreme Court ruled the state must shed 30,000 residents from its facilities, finding that overcrowded and unsafe prison conditions violated the Eighth Amendment ban on cruel and unusual punishment for crime. Since the court's ruling, state legislators adopted policies that expanded parole eligibility, including for older incarcerated men and women who were sentenced as teenagers to life in prison without the possibility of release.
Proposition 57, a ballot measure approved in 2016 that is expanding the availability of rehabilitative programs in California's prisons, is pushing CDCR in the right direction. Participation in the programs allows residents to earn time off their sentences, while also gaining valuable vocational skills and invaluable emotional and mental coping skills, advocates and current participants said. But the system, and the state overall, has a lot more ground to cover, according to Sam Lewis, a formerly incarcerated prison reform advocate and director of inside programs for the Los Angeles-based nonprofit Anti-Recidivism Coalition.
"We need to make sure that we have robust rehabilitative programming, including therapy for trauma, in order for people to heal," Lewis said in an interview at Valley State Prison. "People that are in prison are broken. That's a simple fact. [We must make] sure that we have in place the money to have these programs inside the Department of Corrections."
On the outside, Lewis said, the state must also remove barriers that make it difficult for formerly incarcerated people to become entrepreneurs. For example, even though CDCR offers barbering and cosmetology classes on the inside, a state governing body can deny licenses to people with a felony record.
That's a policy that Cesar Gonzalez, 22, of Palmdale, California, hopes will change, should he ever decide to open his own nail salon. In his early teenage years, Gonzalez became a gang member and was in and out of juvenile detention facilities. Being in a gang was his way of finding praise and attention that he didn't see at home; he struggled to get along with his mother and his father had been physically abusive, he said.
At 18, Gonzalez was convicted of mayhem, after he shot someone in the foot with a shotgun, permanently disfiguring the victim. "[He] had an amputation of his toes," Gonzalez said from Valley State Prison, where he is serving time.
"Some people do laugh, you know, but it's kinda ironic," he said. "I'm here for shooting somebody in the foot and losing their toe. They have a cosmetology class, and I'm learning pedicures now. This is my way of rehabilitation. Like, I take care of feet, now."
His clients are other incarcerated men.
But rehabilitation is no laughing matter for Gonzalez. "People think that everybody in prison is a bad person, and I don't think that. Everybody makes bad choices, you know. Here, in this prison, you're able to see the work that [people] actually do to better themselves," he said.
National reform efforts gain momentum
It's these types of opportunities that federal lawmakers hope to expand for 181,000 federally incarcerated men and women, through the bipartisan legislation known as the FIRST STEP Act. Passed by the House of Representatives in May and awaiting Senate approval, the legislation would "promote prisoner participation in vocational training, educational coursework, or faith-based programs," the White House said. There's even a plan to place federally incarcerated men and women closer to their communities, to facilitate family visitation.
According to the White House, 38% of people released from federal penitentiaries are rearrested within five years of release.
"The bipartisan reforms supported by the president are an important broad-based approach that will, hopefully, benefit not only prisoners, but also the American public," Jared Kushner, Trump's son-in-law and senior adviser, and Tomas Philipson, a member of the President's Council of Economic Advisers, wrote in a recent op-ed for USA Today. "This White House recognizes that fiscal and human costs of criminal activity are unacceptably high."
Celebrity engagement on prison reform issues is far from new. Kim Kardashian West visited the White House and successfully lobbied the president to grant clemency for Alice Marie Johnson, a 63-year-old first-time nonviolent drug offender who was given a federal life sentence without parole in 1996. Johnson was released in June. Kardashian West's husband and longtime Common collaborator, Kanye West, had also engaged the president about prison reform.
But a White House visit to discuss criminal justice reform isn't in the plans for Common, he said.
"I don't believe that Donald Trump — because of the history of Donald Trump, who he has been and who he is showing himself to be — is going to really want to work to do something to help the criminal justice system," he said. "And if he proves me wrong, so be it."
He added: "If Kim and Kanye are part of that work, God bless them."
Facilities let residents lead rehabilitation programs
Visitors to Corcoran State Prison Substance Abuse and Treatment Facility couldn't miss the Blue Lives Matter banner hanging in the guard booth. It's an American flag with its stripes and stars colored in black, white and blue, in response to felonious deaths of police officers at the height of the Black Lives Matter movement. Visitors are asked to sign in on a guest book that appeared both tattered and underused, perhaps a symbol of the fact that Corcoran, despite its distinction as California's farming capital, is roughly 63 miles away from the nearest big city.
This facility was the first stop on the Hope and Redemption Tour in October, and it was where staff and residents stressed the importance of resient-led rehabilitative programs. There's Criminals and Gang Members Anonymous, a 12-step program modeled from the ubiquitous Alcoholic Anonymous groups. There's Getting Out by Going In, a self-study and correspondence program that discourages violence and crime inside prisons by promoting positive decision making.
The number of programs in CDCR have increased, and they are working, according to Alberto Tolento, a 50-year-old lifer at SATF. Tolento, who grew up in Los Angeles County, entered prison at 17 years old after committing murder in a drive-by shooting. He received a sentence of life behind bars, without the possibility of parole. But upon incarceration, Tolento said he transitioned from street gangs to gangs in prison.
Rehabilitative programs weren't as available in the 1980s. But when Tolento found them, he began turning his life around.
"That's what gave me the hope and the strength to walk away from that life that I was living for so long," he said. "I thought I was trapped in and if there was no way out. I didn't have the strength and the courage within myself to do it on my own, or else I would've did a long time ago."
It took him until 2014 to leave the gangs entirely. A counselor at SATF said Tolento's transformation was so apparent that he was handpicked as a mentor for the CDCR's Youthful Offender Program, a small-group mentorship program meant to steer young, impressionable minds away from prison gangs. Created in 2015, YOP is currently available in 10 prisons in California, the counselor said.
"We teach individual groups on different topics, nonviolent communication, victims awareness, anger management and conflict resolution," Tolento said. "So we're trying to teach them to really start digging in deep now, while they are young, and not wait and be influenced by people that are still lost in the criminal mindset and still haven't made that choice to truly change within."
Ethan De La Cruz, a correctional counselor at SATF, said the program has graduated over 90 participants and is one of the most successful efforts to date. "Compared to other self-help groups that are run by a staff facilitator with 30 some inmates, our program let the [...] participants familiarize and identify with a mentor who they might not have associated with if it weren't for these groups," De La Cruz wrote in statement emailed to Mic.
"[Mentors] were able to answer questions and advise the YOP inmates because they, for the most part, had 'been there, done that,' [and] found a better way,'" De La Cruz said.
It's transformation stories like Tolento's that Common said he'll continue to shine a spotlight on.
"Don't think everything in prison is people stabbing each other, and wanting to go at each other," the rapper said. "Yes, that does exist and we're not trying to ignore that. But it's also a place that you go, and people are studying coding, they're studying theology, they're studying to get their college degree. They're training dogs."
As he closed out his concert at SATF, Common and his band spent time vamping his 2005 song, "It's Your World," in which the lyrics explore life's possibilities when one overcomes adversity. Many in the audience showed their approval by raising a clenched fist in the air or using both hands to make a heart.
And for a few in the crowd, it was the first hip-hop concert they had ever attended.
"Some people don't even have an opportunity to get out, but they still can live their life as a better human being," Common said in an interview. "We met brothers who said that, even though they're behind these walls, they feel free in their spirit and their mind."
Nov. 26, 2018, 4:00 p.m. Eastern: This story has been updated.
Check out this episode of Mic Dispatch above — only on Facebook Watch.
To catch future episodes of Mic Dispatch, follow Mic Dispatch on Facebook Watch. For more stories about the show, visit the Mic Dispatch collections page.