"Crying Nazi" Christopher Cantwell uses Gab to threaten reporter covering Charlottesville trial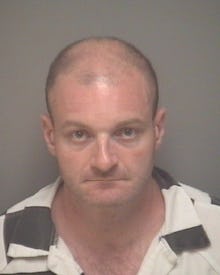 White nationalists and supporters of the alt-right appear to be watching the ongoing trial of accused Charlottesville, Virginia, killer James Alex Fields Jr. closely this week, and at least one of them — Radical Agenda podcast host Christopher Cantwell — is using his Gab account to lash out at reporters covering the trial.
Cantwell gained notoriety more than a year ago after participating in the violent 2017 "Unite the Right" rally that left three people dead and at least 34 more injured. The 38-year-old was charged subsequently with three felony counts related to use of tear gas in Charlottesville; in July, he accepted a plea deal to a lesser charge.
Cantwell also was featured in the Peabody Award-winning Vice News Tonight documentary about Charlottesville, where he was seen marching with other tiki torch-wielding neo-Nazis shouting "Jews will not replace us!" "Blood and soil!" and "White Lives Matter!" before his group fought with anti-racist counterprotesters the night before the rally. Cantwell earned the nickname "Crying Nazi" for the tearful video he posted online after federal prosecutors issued a warrant for his arrest a few days after the rally.
On Tuesday, Charlottesville-based freelance reporter Molly Conger told Mic on Twitter that Cantwell began harassing her on his podcast and on social media earlier this year after she criticized the lawsuit he filed against her friend, Charlottesville activist and journalist Emily Gorcenski, in December.
Gorcenski was one of two Unite the Right counterprotesters who accused Cantwell of pepper-spraying them during the rally back in August 2017, a charge Cantwell previously denied, according to Daily Progress. The television station WVIR reported that prosecutors said they had video of Cantwell using pepper-spray on Gorcenski and anti-racist demonstrator Kristopher Goad. Cantwell's $1 million lawsuit against Gorcenski and Goad was dismissed on Nov. 15.
"Cantwell was suing my friend, and I posted a lot about how dumb the lawsuit was," Conger told Mic via Twitter on Tuesday. "Who knows [why he's targeting me now], probably because I laughed at [him]. As Margaret Atwood said, 'Men are afraid women will laugh at them. Women are afraid men will kill them.'"
Conger is covering Fields' trial on her new podcast The Trial of James Alex Fields. Screenshots from Cantwell's Gab account posted on Twitter on Tuesday show him threatening Conger for her recent reporting and accusing her of spreading falsehoods.
"Dear Molly Conger, You will pay for your lies," Cantwell wrote early Tuesday morning.
Conger told Mic that Cantwell's most recent threats on Gab were far from the first time he has verbally attacked her. Earlier this year, she said he told some of his podcast listeners to break into her home and sexually assault her.
"If I were a little less fried, I could dig up the audio of Cantwell encouraging a caller to come to my house and rape me until I'm not gay anymore," Conger said late Tuesday night after spending all day covering Fields' trial inside Charlottesville's circuit courthouse. "In March or so, he spoke directly to me via his podcast and told me to slit my wrists."
Conger also indicated on Twitter that she was threatened previously by accused mass shooter Robert Bowers before he allegedly killed 11 worshippers at the Tree of Life synagogue in Pittsburgh.
She said Bowers got her name and information from League of the South neo-Confederate activist Brad Griffin, aka Hunter Wallace, who she said doxxed her on Gab earlier this year. Griffin, whose Gab username is @occdissent, regularly interacted on Gab with both Griffin and alt-right activist Jack Corbin, aka the "Antifa Hunter," whose real name is Daniel McMahon, according to Conger and Gorcenski.
Posts on Cantwell's Gab account earlier this year show him congratulating Griffin for exposing an antifa activist who Griffin said was harassing white nationalists on Twitter. Corbin's Gab account is currently marked private, so his posts are not available for people who aren't already following him there.
"Bowers was regularly interacting with people like Jack Corbin and Brad Griffin, both of whom have harassed me quite a bit," Conger said.
In another Gab post, Cantwell complained about FBI agents not following up on crime tips provided to them by supporters of the alt-right who have accused progressive activists of engaging in acts of bad behavior.
Surprisingly, Cantwell actually compared himself to Bowers and convicted mass murderer Dylann Roof, suggesting he and other white nationalists may eventually be forced to commit similar acts of violence.
"If you will not act upon the information we provide to you, then what other choice do we have but to take the law into our own hands?" Cantwell said. "How am I better than Dylann Roof or Robert Bowers, if my peaceful and lawful actions produce the catastrophe that awaits us all? For America to survive, we must address these issues, and if the government will not do so, the private sector will."
Conger said she is "very hesitant to write off any of these posts as just 'keyboard warrior stuff.'"
"I'd seen Bowers' posts months before the shooting, even some threatening content directed at me," she said. "And because it didn't really stand out in the sea of hateful content around it, I dismissed it. And then he murdered 11 people. So I don't feel it's appropriate anymore to dismiss statements like the one Cantwell made last night... How is this any different than Bowers' last post before he committed the worst act of anti-Semitic violence in American history?"
One commenter on Cantwell's Gab post called Conger a "k*ke," falsely characterizing her as Jewish, which she said has happened before.
"I am not Jewish nor am I trans, but they do like to use insults based on those two identities," Conger told Mic on Twitter.
The self-described amateur reporter also expressed what appeared to be sarcastic gratitude that Cantwell and others on Gab were listening to her podcast, posting screenshots of additional comments and apparent threats she's received.
"Chris, I'm glad you like the show, but you should really double check the meaning of perjury and also maybe not align yourself with mass murderers in what kind of sounds like a threat?" Conger wrote.
What will Gab do?
Gab administrators did not immediately respond to a request for comment made via Twitter about whether they will kick Cantwell off the site for making threats. The pro-free speech social media platform recently banned neo-Nazi Patrick Little after he posted comments saying Bowers was justified in allegedly killing 11 people in Pittsburgh.
Gab has become a haven for bigots like Cantwell and Bowers, who posted several anti-Semitic remarks on the site in the days leading up to his alleged attack in Pittsburgh, including one status update that said, "Screw your optics, I'm going in," which was posted a few hours before the shooting.
Bowers' alleged act of violence and anti-Semitic posts led to Gab being forced off GoDaddy's servers in October for violating the web domain host's terms of service. Gab returned to the internet on an Epik domain server earlier this month.
In addition to Cantwell's comment, screenshots tweeted out by Conger showed Gab user John Austin making an apparent threat against Conger's life.
"The only way to stop these people is to kill them," Austin commented on a post about Conger's podcast. Austin's Gab handle, @WarMachine1488, was deleted by Tuesday afternoon.
Gab may be keeping silent about threats made to Conger, but the site's new domain host is not.
Epik's founder, chairman and CEO Robert Monster said on Twitter on Tuesday night that Austin's threat against Conger seemed like a "cry for attention."
"As far as I can tell this John Austin does not even exist," Monster said in a tweet. "The folks at [Gab] are doing a good job of enforcing [terms of service]."
Monster also said some Gab users' threats are being made by left-wing progressives pretending to be far-right bigots on Gab.
He tweeted a meme that said "99% of 'Nazis' on Gab are liberal trolls wishing to shut Gab down through posting anti-Semite garbage that will give enemies of freedom an excuse."
In a reply to a tweet from Mic, Monster said violent threats and other suspected terms of service violations posted on Gab should be sent to the company's support team via email at support@gab.com.
Cantwell previously violated a bond agreement by talking about Charlottesville victims on either social media or on his podcast, according to WVIR. It's unclear whether threatening Conger online violates the plea deal he agreed to in July.
Conger said she doesn't plan to file criminal charges against Cantwell for his threats.
"Having seen how his criminal case in which my friends were the victims was handled, I'm not optimistic anything would come of it except that it would bring down a massive amount of harassment on me," she said.