Ferguson activist Bassem Masri died reportedly from a heart attack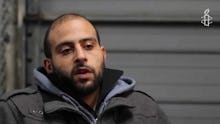 Bassem Masri became the latest activist from 2014's Ferguson, Missouri, protests to die on Tuesday, according to the St. Louis Post-Dispatch.
Preliminary reports indicated the 31-year-old Palestinian-American died of a massive heart attack, but his official cause of death is still pending, according to the St. Louis Post-Dispatch. Masri's death was preceded by a string of fatalities involving people who participated in Ferguson demonstrations four years ago after the police shooting death of Michael Brown.
"In his short life, he did as much if not more to unite the fight for black liberation and Palestinian liberation," Masri's cousin Faizan Syed wrote on Facebook about the activist on Tuesday afternoon. "May Allah accept his sacrifices for justice and overlook his flaws and mistakes."
Funeral services for Masri are scheduled to take place at 1:30 p.m. on Wednesday at the Dar-Al-Jalal Islamic Center in Hazelwood, Missouri, according to Syed.
Masri was a livestreamer before the advent of Periscope or Facebook Live, known for his uncompromising views on police brutality and his anti-racist activism. He didn't trust the mainstream media to accurately report on the demonstrations taking place in Ferguson before or after the nonindictment of former officer Darren Wilson, who fatally shot Brown. So Masri routinely went out into the streets and broadcasted on the internet for everyone to see.
"I can't rely on them," Masri said of the mainstream media in a 2014 video clip tweeted out by St. Louis, Missouri, activist Kayla Reed on Wednesday. "They ain't gonna say the truth. They ain't gonna never say the truth. They got their own narrative."
Masri isn't the only Ferguson demonstrator to die at a young age.
Ferguson activist Melissa McKinnies found her 24-year-old son, fellow activist Danye Jones, hanging from a tree in her backyard in October. Jones had been missing for days. Police investigated his death as a suicide, but McKinnies believes it was foul play.
"They lynched my baby," McKinnies wrote in a since-deleted Facebook post, reported by the Washington Post. "I'm sick and losing my mind, but I had to let the world know what they did to my baby!"
Ferguson activist Edward Crawford, the 27-year-old father of four who threw a teargas canister back at Ferguson police in 2014, was found dead in the backseat of a car in 2017. The iconic image of Crawford throwing the canister was captured in a Pulitzer Prize-winning photo.
Witnesses who were in the car told authorities Crawford shot himself while the car was moving, according to NBC News.
"The victim began expressing he was distraught over personal matters to the witnesses," Ferguson Police Department public information officer Leah Freeman told reporters. "The witnesses heard the victim rummaging in the backseat, then heard a gunshot and observed the victim had sustained a gunshot wound to the head."
Darren Seals' burned body was found in September 2016 with at least one gunshot wound inside his car, which had been set aflame, according to the Washington Post. Seals' body and car were found on a dead-end road less than five miles from his home, according to the St. Louis Post-Dispatch. Seals co-founded the activist group Hands Up United after Brown's death. The Daily Beast reported that Seals was one of six black men in Ferguson to be fatally shot before having their bodies burned between 2014 and 2016.
Twenty-year-old DeAndre Joshua's body was also burned after he was shot in the head. He was found in a car found the morning after a grand jury declined to indict Wilson.
St. Louis police said they were investigating whether Joshua and Seals' death were connected after the latter man was found dead under similar circumstances, according to the New York Daily News.