Tripped Up: What happens if your vacation rental gets robbed?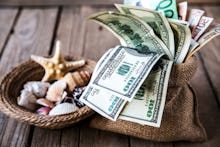 When you're planning a vacation, the last thing you probably want to think about is contingency plans in the event that something goes wrong. But, while that's not a fun part of trip planning, it's also not a bad idea. If you're staying in a vacation rental, one thing worth planning for is how to protect your valuables and what to do if they get stolen. While the chances of that happening may be low ("To date, there have been over 400 million guest arrivals in Airbnb listings and negative incidents are incredibly rare," said Airbnb's Charlie Urbancic), having a plan in place will help give you peace of mind throughout your trip and make it easier for you to get back on track if an incident does occur.
Plan ahead
If you're concerned about the safety of your rental, do as much research in advance as you can to put your mind at ease. Read reviews of the properties you're considering, and choose one with enough positives to make you feel comfortable (and without negatives that make you nervous). "Every property is different, so make sure to contact the owner if you have questions before you book your trip," said Melanie Fish, travel expert at HomeAway and VRBO. "Ask about security systems, the neighborhood — whatever is going to make you feel good about staying there."
Research your destination and the neighborhood you're considering staying in, and check to see if there are any State Department travel advisories that may impact your trip.
Take steps to protect your valuables
Even if you've thoroughly vetted your vacation rental, it can't hurt to take a few measures to protect yourself and your valuables once you're there. "Walk through the rental when you first arrive," Fish said. "Where are the entrances and exits? Is there a first aid kit? Ask the property's owner or manager about any security systems you should be aware of, or recommendations on where to secure any valuables you're traveling with. Lock doors and windows and secure gates."
Ask in advance if the rental includes a safe; if not, consider bringing a small travel safe for your passport and other valuables.
Notify authorities
If your rental does get robbed, contact the local police before anything else. "Although such incidents are incredibly rare, it's important to familiarize yourself with the local emergency numbers for any destination you visit," Fish said. "For instance, France's equivalent of '911' is '112', with a few additional numbers for fire, emergency services and more."
If your passport was among the items stolen, file a report with the State Department and take the necessary next steps to replace it.
Cancel your credit cards and change your passwords
If any of your credit cards were stolen, call the bank to report them as such and cancel them. If they were used before you noticed, ask the bank about how to get your money back for those purchases. Your bank can also send you a replacement card; and, according to NerdWallet, they may be able to wire emergency funds to you, potentially with a fee attached (look into this possibility before your trip, so you have the information on hand). It's also a good idea, NerdWallet noted on its website, to travel with a backup credit or debit card. Keep it separate from your others to help minimize the chances of both going missing.
Depending on what personal items and information was stolen, it also may be a good idea to change your online passwords for your bank account, trusted traveler memberships or other potentially affected accounts.
Contact the vacation rental site
"After working with local authorities to make sure all the proper steps are followed, contact the customer support line of the rental agency you worked with," Fish said. "They'll guide you from there." For example, both HomeAway/VRBO and Airbnb have 24/7 customer service teams you can reach in the event of an emergency. If the owner of your rental isn't already aware of what happened, Fish noted, the company can get in touch with them. The rental agency can also help guide you in next steps to take, such as potential rebooking at another property.
Look into potential insurance claims
"We recommend travelers purchase travel insurance that covers lost or stolen belongings on every part of your journey: from the airport, to your accommodations and back," Fish said.
If you don't purchase such insurance, though, you may still have options. Look into whether travel insurance is included on the credit card you used to pay for your trip; or if your homeowner's or renter's insurance policy offers any coverage for personal property that's stolen while you're abroad. Airbnb, for its part, does include Host Guarantee protection on its listings that may cover some lost or stolen items ("Covered Property"), but it depends on exactly what the items are; and the host will need to make the claim.
Regardless, it's worthwhile to look into all avenues for potential reimbursement, whether or not you purchased specific trip insurance in advance.