Malala Yousafzai and Jon Stewart Discuss Her Powerful Stand Against the Taliban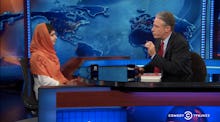 Update: On Friday, October 10, Malala Yousafzai became the youngest Nobel Peace Prize winner in history when was awarded the 2014 prize along with Indian children's right activist Kailash Satyarthi. Yousafzai, 17, and Satyarthi, 60, were chosen "for their struggle against the oppression of children and young people, and for the right of all children to education," the Norwegian Nobel Committee said.
Just one day shy of a year after the Taliban attempted to silence her voice forever, 16-year-old Malala Yousafzai appeared on the Daily Show with all of the same grace, poise, and humility that she displayed during a speech in front of the UN this past July. In October of 2012, Yousafzai, who comes from the Swat region of Northwestern Pakistan, was shot in the head and neck by a Taliban gunman as she returned home from school. Her case provoked international outrage and garnered attention for the plight of schoolgirls under the threat of the Taliban.
Yousafzai continues to campaign for the rights of women in her home region in the face of renewed Taliban threats, promoting her charity The Malala Fund and her new book I am Malala. After putting a bedraggled Health and Human Services Secretary Kathleen Sebelius through her paces the night before, Jon Stewart made no secret of his enormous admiration for Yousafzai's courage and, especially, her warm and earnest demeanor.
Watch the appearance below:
The Daily Show
The Daily Show
The Daily Show
Stewart did not ask her to describe the shocking event that nearly took her life, instead prompting her to discuss her family, the source of her belief in education and her courage to stand up to the Taliban. Yousafzai recounted the tumultuous and terrifying period between the arrival of the Taliban in the Swat region in 2004 and 2009, when terrorist activity in the area was at its most rampant. Throughout the interview, Malala Yousafzai smiled and appeared genuinely grateful to be present and have a chance to speak. Jon Stewart was more than happy to give it to her.