PolicyMic Movie Guide: What to See, Stream, and Skip This Week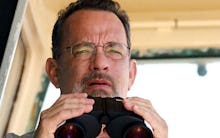 Happy Columbus Day PolicyMic readers (or Indigenous People's Day, if you prefer)! Whenever you've finished gallivanting about on this blessed day off from work, sit down and relax (Well, not really. You'll see.) with something from our latest Movie Guide. Last week was all about white-knuckled terror, and we haven't turned down the volume much this round. Nail-biting suspense, badass amphibians, and star-crossed lovers make up our picks for what movies to see, stream, or skip this week.
What movies are you looking forward to seeing? Got suggestions for next week's roundup? Let me know in the comments and on Twitter.
1. See: 'Captain Phillips'
What it's about: Captain Phillips is based on the real-life hijacking of the U.S. container ship Maersk Alabama in 2009. While traveling in the dangerous waters between Oman and Kenya, the Maersk is hijacked by four Somali pirates armed with AK-47s and demanding a $10 million ransom. The film centers on the riveting relationship between the pirate leader Muse (Barkhad Abdi), and the ship's veteran captain Richard Phillips.
Why you should see it: Greengrass is no stranger to crafting gripping tales of suspense (The Bourne Supremacy, The Bourne Ultimatum), nor to turning tragedy into entertainment (United 93). While the merits of such an endeavor are open to debate, Captain Phillips as a stand-alone work of art has received glowing praise. The exhilarating film isn't for the faint-hearted—it's "take no bathroom breaks intense" according to PolicyMic's own Elena Sheppard (whose nuanced breakdown of the film's strengths and issues you should read right now).
Hanks overcomes a pretty laughable Boston accent to deliver his best work in years, and Abdi, a Somali-born, Minnesota-based cab driver who had never acted before this role, more than holds his own against the two-time Oscar winner. As one reviewer pointed out, Captain Phillips may also carry some additional, if unintentional, resonance in light of our current political stalemate.
Directed by Paul Greengrass.
2. Stream: 'Pacific Rim'
What it's about: Really, really big monsters from another realm are trying to take over Earth. It's up to a handful of highly-skilled warriors manning really, really big robots to save the day. TL;DR: Iron Man vs. Godzilla.
Why you should see it: Pacific Rim isn't nearly as silly as it sounds. This is not a deep film, but it is an immensely enjoyable love letter to Japanese monster movies of the past and an action-packed, original blockbuster (a novelty amidst the never-ending slew of remakes, reboots, and sequels). This one was best on the big screen, where you could appreciate the scale of del Toro's typically fantastic creations, but it still entertains on the small. The fight scenes are epic (some truly amazing CGI is in play), the lead (and pretty much only) female character kicks major ass, and both Idris Elba and his moustache are glorious to behold.
Directed by Guillermo del Toro.
3. Skip: 'Romeo and Juliet'
What it's about: Seriously?
Why you should skip it: Julian Fellowes (who adapted the screenplay) clearly has a thing for lush period dramas, and director Carlo Carei's take on this oft-told story is indeed nice to look at. And yet, the film remains "romantically anemic"—which is sort of an issue when dealing with the most famous love story of all time.
Given that this is not a modern adaptation, but rather is set in the time period during which the play was written, it's perplexing as to why Fellowes felt it necessary to tweak swaths of dialogue written by the greatest playwright in history. His editorial changes (which include the addition of lines like "the prince's kindness is a golden axe that cuts my head off") are so remarkably bad that one reviewer said that what Fellowes "does to Shakespeare in this film, no writer should do to any writer—not even to Julian Fellowes."
Romeo and Juliet is not Shakespeare's best, and enough adaptations have already been made that you should be able to find one to suit your tastes—whether you prefer hippie-tinged classics, marvelously angst-ridden soundtracks, or Legolas. So when considering this most recent reboot, one really just has to ask: Why?
Adapted for the screen by Julian Fellowes.