New Media Needs New Voices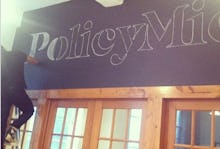 When Sam was first hired as an editor at PolicyMic, she resolutely declared that she did not want the site to start a "lady blog." A year later we can say that we didn't. We came up with something better.
Perhaps you're wondering what "Identities" means, and how it fits into PolicyMic's mission to provide commentary and analysis for and by millennials.
Here's our radically simple idea.
Millennials are an incredibly diverse generation, and we experience the world in different ways based on our respective identities. Any media outlet that speaks for millennials has an obligation to acknowledge this plurality of voices, but as an organization which speaks as millennials, we hope to do more than that.
That the media is changing is old news. For new media outlets like PolicyMic, these changes have meant figuring out how to use the tools we now have at our disposal to create writing that matters. Millennials, as both writers and readers, are at the forefront of these developments, reimagining media from the inside out. As journalist Ben Adler puts it, "By posting observations and arguments on everything from personal blogs and discussion boards to Twitter feeds and comment threads, every young person is now, on some level, an amateur journalist."
However, here's where we beg to differ.
At PolicyMic, we face a complex reality: Millennials have grown up with the internet, but generally lack training on how to critique it. As more and more of us add our voices to the mix, it's key that we ensure that each voice has meaning. Information without substance is paralyzing, and overwhelm is its own kind of weapon. Too often we find ourselves in an echo chamber of slight variation, trumpeting our similar opinions — whether we aggregate selectively in our writing or only read to affirm what we already know.
Nowhere is this more true than in the hot-button spaces of this vertical: cultural writing, the feminist blogsphere, and really any space that attempts to dialogue about class, race, gender, and sexuality. We are used to seeing smart, outraged responses in rapid succession, and rightfully so. But we feel the most changed by writing that challenges us to think deeply about issues outside of a 24-hour news cycle, work by the likes of Ann Friedman, Amanda Hess, Ta-Nehisi Coates, and Roxane Gay (who wrote this incredibly recommended reading list).
It's not that we think that young people shouldn't have a voice in culture or politics or that we shouldn't be commenting on, reacting to, and analyzing the information presented to us. But we also don't think that sharing a link on Facebook with a sad Emoji constitutes amateur journalism. Media critics make a big fuss over the hypersocial and interconnected nature of news today, but too often speak in the limited vocabulary of Facebook likes, Tweets and RTs, and hyperactive comments sections. Without deep engagement, we're in danger of falling for exactly what makes us suspicious: aggregated content with no clear author or traceable facts, partisan fact-twisting, Wild West-style report-first, check-later attitudes. How to know what's true with this cacophony?
Transparency. Complex engagement. Clear positioning of authorial voice. Writing authentically, from a place that acknowledges the limits of your own knowledge, as well as the unique perspective you bring, is what you can offer PolicyMic — and the broader media world.
With each writer for the Identities vertical (stories through the lens of class, race, gender, and sexuality), we ask two questions:
1. What do you have to say that you haven't read anywhere else?
2. What's the "youth perspective" on this story?
Two simple questions that often unlock a world of knowledge and introduce voices into the conversation that you won't find anywhere else.
Two simple questions that highlight the potential, then, to make PolicyMic a tool for accessing what smart, young students, nonprofit employees, lawyers, teachers, and writers of diverse classes, races, sexualities, and genders see when they look at our brave new world.
What experiences lead us to make this decision, you ask?
An excellent question. As you might have already guessed, our lives did.
For Thomas, it started with alt weeklies.
My first reported story morphed from a quick-and-dirty rundown of some sketchy happenings at Boston University to a full-scale investigative report that ended up on the cover of Boston's Weekly Dig.
The Dig was an edgy alternative paper that would soon be subsumed — as all alternative press has been — by the internet. As a 21-year-old intern in the early aughts (those last-gasp days of print), I mostly collated music listings and wrote an arts story or two when the editor would let me. But when I stumbled on B.U. President John Silber's war on gay-straight alliances at the university's affiliate high school, it was big news — and I was breaking it. I was sent out to the field with a tape recorder and a prayer, crash-coursing my J-school education via intensive on-the-job training in interviewing, ethics, fact-checking, and sourcing.
And I loved it.
Alternative papers like the Dig and the Boston Phoenix (where I eventually worked as an editor), lay the groundwork for the gritty world of online outsider journalism. I didn't know at 21 that in a decade I'd be a trans man writing on trans visibility and alternative narratives of masculinity for huge outlets like The Atlantic, Salon, and BuzzFeed, but I should have predicted it. I refused to believe that my life was marginal, or that the only way my body would be recognized as valid would be through "traditional" sources —doctors, talk show hosts, movie studios, media conglomerates. My body was already valid, my story already in motion — what I needed was a platform to communicate the stories that lived outside those old, staid narratives of what makes a man.
I am proud of my ability to condense trans history into a digestable, viral post, and I'm glad to have the opportunity and platforms to ask big questions in few words, tie my experience to yours, and generally insist on my place in the universe. I needed the internet, with its limitless potential for visibility, its vast networks, its hunger for new stories and unexplored angles. And the internet, it seemed, needed me —and you — to grow.
While Thomas's story starts with writing, Sam's began with reading.
I read my way into writing for the internet just as I read my way into feminism. In fact, I first met Thomas through reading his writing at The Rumpus, one of my favorite literary sites. It isn't an uncommon occurrence for a person who lives on the internet professionally; I know people by their words and ideas. I've sent weekly or daily GIF-laden emails to friends and colleagues and learned about their job changes, love lives, and health issues without ever having met in person. It's the twentieth-century version of pen pals.
As a privative person, a person who categorically refuses to wear name tags at social events (if I wanted you to know my name, I would tell it to you myself), I find myself perpetually uneasy about the internet and the communicative changes it has wrought. I've spent the majority of my life in libraries and bookstores. I'm unaccustomed to what it means to be a reader on the internet, to making what used to be a private experience public. The thought of Instagramming a meeting with a colleague or leaving a Facebook comment on something as I read it, as I know is common practice for web journalists, makes me want to bury my nose in a book until I've forgotten all about the sudden ubiquitousness of hash tags.
At heart, I'm a reader. And as a reader, I can't deny that the internet offers me incredible access to new stories by writers like Thomas. As an editor, I can now not only write and read what Roxane Gay calls "urgent, unheard stories," but I can assign them, solicit them, publish them, spread them. This is my privilege as well as my responsibility.
We've both realized that we're in a time where we've achieved a funny sort of freedom. As Google exec Eric Schmidt wrote in his book, The New Digital Age, "The internet is among the few things humans have built that they don't truly understand." Whether it is a tool or weapon, until now a choice made mostly by individual writers.
At its best, the internet provides an opportunity for writers to do what they do, and what Thomas tried to do in alt-weeklies and later online — tell the stories that don't get told and highlight voices that push our understanding of ourselves to ever-expanding spaces.
Lately we've taken up the mission of locating those voices in earnest. We know that what we need — a greater sense of connection — is already, always at our fingertips. What we want is to see are more stories that undermine dominant narratives, and more people reading them. We think that we can change the conversation about how people write about our lives and our world. We believe that there's room for complex and competing counter-narratives — and that the people currently dominating the conversation aren't the only ones we need to hear. As editors, we want to be surprised, to think beyond our lives, to be challenged by fresh angles and new perspectives.
Because the internet can be a tool for decoding culture and making meaning, for seeing all sides and making up your own mind — and for reading the stories, right here, right now, that might very well change it.
Are you interested in writing for Identities? Check out our call for writers. Be sure to follow Identities on Twitter: @IDsMic
This piece was co-authored by Sam Meier and Thomas Page McBee.