Meet Jared Milrad: Advocate, Dog Lover & Pundit Of the Week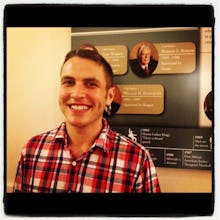 Jared Milrad has worked in the White House, advocated for civil rights and economic justice, and founded a program to bring access to legal services for those who can't otherwise afford it. He's also our exceptional pundit of the week, candidly discussing his commitment to social justice, and why PolicyMic needs more millennials' voices on the intersection of sexuality, politics, and culture. 
As part of the "pundit of the week" column, we spotlight one PolicyMic-er to share personal experiences with our community, and pose one never-been-asked question to a staff member. Sam Meier takes on Jared's question about how the Identities vertical came to be.
Check out my last Q&A with Robinson O'Brien-Bours.
About Jared: A graduate of Northeastern University School of Law, Jared has a background in politics, policy, law, and social justice. He is the founder of Civic Legal Corps, a national fellowship program for young attorneys to help close the gap for access to justice for moderate- and low-income Americans. An alumnus of both of President Obama's campaigns and a former associate in the White House, Jared holds a masters degree from Tufts University and a bachelors degree with highest honors from North Carolina State University.
Caira Conner (CC): First things first. When and why did you get involved with PolicyMic?
Jared Milrad (JM): While working on a project to promote bipartisan millennial leadership in politics, I was introduced to Jake Horowitz and Nick Baker. It was the first time I had heard of PolicyMic, but Jake and Nick impressed me with their commitment to use the site as a platform to engage millennials on issues that will affect our generation for decades to come. I've always wanted to write on a more regular basis, and given my background in social justice, law, and politics, PolicyMic seemed like a perfect fit for me.
CC: Your article on the Dutch activist arrested for talking about gay rights in Russia is hailed as one of the definitive pieces of our redesigned Identities vertical. What's it like to cover the intersection of sexuality, politics and culture? What are the challenges?
JM: That's great to hear.
What's interesting about the Kris van der Veen article, and writing in this genre in general, is how rarely issues of identity, politics, and culture are delved into in a substantive, thoughtful way online.
What's interesting about the Kris van der Veen article, and writing in this genre in general, is how rarely issues of identity, politics, and culture are delved into in a substantive, thoughtful way online.The way in which the van der Veen article came about is a great example. As I was reading articles about his detention and interrogation in Russia, I noticed how major news outlets that reported the story simply reposted the same quotes from him over and over again. At least in the U.S., no one at that point had taken the time to actually interview him about his experience in Russia, but when I did talk to him, managing all of the complexities of the story wasn't easy. So on one level it's refreshing and exhilarating to work on the intersection of sexuality, politics, and culture; on another level it's very challenging, because not a lot of people are doing it well.
JM: What is one outcome you'd like to result from your engagement with PolicyMic? Any ideas for the best way to make this happen?
JM: I'd like to see readers gain a greater sensitivity for people who in some way are working to make the world a more compassionate, more accepting place to live, whether through their music, art, political views, or another forum. I'd like to see a greater appreciation for substantive, thoughtful commentary on issues that matter to millennials, with a particular focus on original reporting and personal essays. I hope that the topics I choose to write about and the profiles I do help achieve these goals, but more importantly I'd like to see PolicyMic and other news websites move in a similar direction.
CC: If you had to pick one thing to change about your PolicyMic user experience, what would it be and why?
JM: I'd like to be able to interact in a more meaningful way with my readers and fellow users. In general, I'm not a big fan of online comments, because I think they often provide a very limited opportunity for constructive dialogue and a meaningful exchange of perspectives. Perhaps there's a way for PolicyMic to have opportunities for open dialogues between users and readers, because I think the more we can offer ways for people to engage in honest, less combative ways about politics, policy, and other contentious issues, the better off we'll all be.
CC: Let's go offline. What do you like to do when you're not PolicyMic-in'?
JM: You'll find me hanging out with my fiancé, Nate, and my rescue dog, Cooper, whenever possible. They're the best. Other than that, I try to stay in touch with my mom, Jan, and my family in general because they've always been in my corner. I'm also working on getting my own organization off the ground, so that tends to keep me busy, but I try to work out and travel as much as I can. 
CC: Your turn. What's one question you have for a member of our staff?
JM: My question is for Sam Meier. Ever since we started working together, you've been a big advocate of bringing more thoughtful and original content on identities issues to the site. Could you share a bit about your priorities as an editor and why this is important to you?
Sam Meier: I laid out a lot of my thinking in the Identities launch piece I authored with Thomas McBee. When I first came to PolicyMic, my job was to create a community of young people interested in feminist issues, in the broadest of terms. (Pun semi-intended.) But what anyone who spends too much time in progressive digital spaces can tell you is that the 24/7 onslaught of virtual oppression can make you a literal reactionary. 
To my mind, time is the only productive counterbalance — time to think through what it is that's happening, time to dig deep into a story, time to connect the present to the past and speculate on the future. The internet allows us access to so much knowledge; it would be a shame to subsume all of the potential insight we could gain into more monotonous click-driven rage. As an editor here, I've seen young writers achieve so much more than regurgitated news. It's my job to make the writing conditions for them better, to help them reach personal and professional success pinnacles they didn't imagine possible. 
Plus, who do you think reads everything you write? 
CC: Jared, PolicyMic is lucky to have you. Thank you for sharing your perspectives with our community.
For more news on Jared, follow him on Twitter: @JaredMilrad