This Video Blows the Lid Off a Tragic Police Shooting of a Perfectly Innocent Man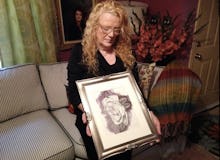 The Dallas Police Department claim they shot Bobby Bennett because he lunged at officers him with a pocket knife, but the video shot on a home surveillance camera tells a radically different story.
Here's the story: Bobby Bennett's mother, Joyce Jackson, called the police on October 15, to help her son , who was suffering from schizophrenia and sitting in the middle of their cul-de-sac with a pocket knife. She was worried he was going to hurt himself.
Unfortunately, though, she called the wrong people. As the videoshows, Bennett pushes his chair away from the officers, and then stands with his hands at his sides at a pretty decent distance away from the officers. As Bennett stands motionless he is shot and killed by Officer Cardan Spencer. Spencer has since been placed on indefinite administrative leave pending review of the incident. The Dallas District Attorney's Office will investigate the incident as well. 
To make matters worse, as Bennett has been in the hospital, he still faces the charge of aggravated assault on a public servant. This has prevented Jackson from seeing her son as he is still being guarded by the Dallas Police Department. 
It's pretty obvious from the video that Bennett didn't move an inch until he was shot by Spencer. Despite being a safe distance away and unflinching, Spencer made the decision to shoot and possibly kill Bennett.
Officer Spencer should never wear a badge another day in his life that states, "To protect and serve."