These 2 Infographics Show the Real Problem in Syria Isn't What We Think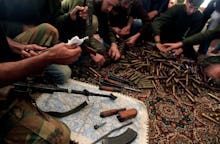 Syria continues to make headlines as we near the planned destruction phase of its chemical weapons stockpile by the OPCW, a watchdog in charge of the process (who, as you know, also won the Nobel Peace Prize for this work earlier this month).
Ahead of the OPCW's work, statements from Washington and Moscow have been full of optimism ... almost like, it seems, once we rid Bashar al-Assad of these chemical weapons, Syria will again be a prosperous and peaceful state. 
Some groups, like the Syrian National Council, have said Syria's biggest problem aren't these chemical weapons, but are instead conventional weapons — armaments which the international community has seemingly glazed over.
To this point, Action on Armed Violence (AOAV), a charity from Britain, published a series of infographics on conventional weapons used in Syria. These infographics provide a scary insight into the weapons that are used to kill civilians in Syria, and from where they originate. As of now it probably presents the most comprehensive analysis of Assad's military capabilities yet provided, and shows that, indeed, chemical weapons aren't the biggest problem in Syria.
Estimates of the death toll in Syria vary, but no one doubts that this number has or will soon reach 100,000 casualties. According to a June report by the UN, 6,561 children were reported victims of the conflict, including 1,729 under the age of 10. According to some estimates, 93% of all civilian fatalities have been due to the use of explosive weapons.
Now that the Geneva 2 conference is unlikely to take place in November and peace talks are postponed yet again, the international community needs to shift its attention from the chemical weapons to a more serious issue of explosive weapons.