Japanese Youth Have Stopped Having Sex Because It's "Too Hard"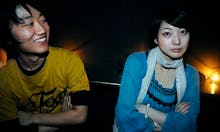 According to a recent survey, not only are young people in Japan not getting into relationships, but a great deal of them are "not interested in or despise sexual contact."
In Japan, the two sexes seem to be spiraling away from each other in a manner never before seen on the island country. 2012 recorded the least births in recorded history for the country, and adult diapers outsold infant diapers for the first time in history. I've got a couple of ideas here that just may be able to turn the tide, and get Japan to overcome their "celibacy syndrome."
The first solution comes from Russia. In 2007, Russian president and judo expert Vladimir Putin started "Conception Day" to curb Russia's low birthrate. You get September 12 off to procreate. Not only do you get the day off, but if your kid is born nine months to the day, June 12, you win actual prizes. Cars, money, refrigerators, it's the Price Is Right of making babies. Earlier this year, Putin tried to hire Boyz II Men to try and perform on Conception Day. An entire country listening to "On Bended Knee" looking to get it on. Here's a little taste of Boyz II Men. Got it?
Second solution: We introduce Teen Mom and all sorts of MTV smut culture into their society. Want to be a TV star and have a future on shows as big as Celebrity Rehab? Want to make a porno and kneel down the clock on your 15 minutes of fame? Everybody wants to be famous. Does MTV know how many beaches are in Japan? Can you imagine the Jersey Shore spin-offs? The possibilities are endless, and all I'm asking for is a director's credit. Here's a trailer for Teen Mom. You'll thank me later, Prime Minister Shinzo Abe. 
My third solution is easier to get into gear. According to the Guardian's article, many Japanese have turned to online girlfriends and internet porn to make-up for their lack of intimacy. Let's bring over sites like Tinder and OkCupid: Online dating and online hookups. This is just simple. Boyz II Men, MTV culture, and a bar meet-up from someone you met online. This almost writes itself. Almost everyone is easier to be with when you're both drunk. Ease into the whole dating thing. 
Call me nine months after the national Boyz II Men concert. I'm sure we'll reverse this trend.