Police Brew-tality: Drunken Cop Arrests Woman For Rejecting Him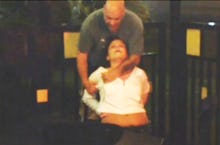 Richland County deputy Allen Derrick has been fired following his arrest for abusing his power following an encounter with a young woman at a Buffalo Wild Wings.
According to reports, Derrick had been rebuffed by 23-year-old Brittany Ball, a soldier stationed at Fort Jackson at the restaurant. Derrick, drunk and off duty, would head out to his car to retrieve his gun, handcuffs, and badge. When he returned he attempted to arrest Ball. The altercation was caught on camera by a fellow soldier. While Derrick was arresting Ball he began shouting at and berating her. Following testimonials by witnesses and reviewing the video evidence the police department ordered a release of Ball, and Derrick was arrested himself on the charge of assault and battery.
wistv.com - Columbia, South Carolina |
The sherriff's office wasted very little time firing Derrick, stating, "There's absolutely no excuse for his behavior and what he did that night."  That much is obvious. Very rarely do we see firings come this quickly from law enforcement offices. Often there are internal investigations and we often have to wait weeks or even months for a resolution. This sherriff's office wasted very little time in doing the right thing. That's something that should be applauded.