'The Mindy Project' Season 2 Episode 6 Recap: Mindy Joins the "Bros Club for Dudes"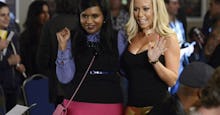 On the latest episode of The Mindy Project, "Bros Club for Dudes," Mindy tries to fit in with her four male coworkers at their OBGYN practice.
Jeremy, Danny, Morgan, and Peter have formed a de facto "bros club" where they shoot nerf guns at each other after hours. An exasperated Mindy literally gets caught in the cross-fire.
Mindy can't fit in with the bros and clashes often with Peter, the newest doctor at the practice, particularly over plans for a new gazebo outside the practice. Desperate to improve their working relationship, she invites Peter to lunch. Unfortunately, she uses the opportunity to talk about getting her first period, which only makes her relationship with Peter more awkward.
At the same time, we learn more about the rest of the staff at the practice. In fact, they get more screentime this episode than the past five episodes combined. Tamra tells Betsy about how her boyfriend, Ray Ron, forgot their anniversary. Morgan sees an opportunity and invites Tamra to help renovate the gazebo with him. After a romantic evening of decorating the gazebo with tea lights, Morgan asks Tamra out for dinner. She declines because she is still dating Ray Ron.
Still committed to fitting in with the bros, Mindy blows off a dinner with the cute hipster Jason in order to go to support Peter at his first UFC fight with the other dudes.
She manages once again to piss off the bros when she reveals that Peter's ex-girlfriend is newly engaged. A demoralized Peter predictably gets his ass kicked.
Meanwhile, Morgan gets sidetracked when Ray Ron shows up. Ray Ron, played by Nickelodeon child star Josh Peck, tries to beat up Morgan for hitting on Tamra. After fending off Ray Ron, Morgan convinces him to work harder for their relationship. Ray Ron shows up at the practice by the end of the episode to woo Tamra with a present and a meal at a "menu restaurant." While this plotline wasn't all that interesting, I have to admit that it really was nice to see more of Tamra and her backstory than just a single sassy one-liner.
After the UFC fight, a heavily-medicated Peter apologizes to Mindy in the hospital. At the end of the episode, Mindy cedes her gazebo renovation plans to Peter's vision and unveils an area where the bros can play basketball and grill.
While the subplot with Tamra was definitely a step forward in terms of fleshing out the only African-American character on the show, I was frustrated by the entire plotline of Mindy being marginalized in the practice for being too girly. The writers did lay the foundation for Mindy feeling like she didn't fit in with her male coworkers in previous episodes, but she responded in a way that didn't feel true to her outspoken feminist self. Instead of Mindy's standing up for herself and her interests, she bent over backward to accommodate the bros. It also didn't fit with what we knew of Peter, who had previously treated Mindy fairly well. In the next episode, I'm looking to see Mindy stand up for the respect that she deserves in her interactions with her coworkers with her usual brand of tough sass.
Quick Hits
Funniest Mindy Moment: Mindy putting her foot down about listening to Phish.
Cringe-worthy: Surprisingly rare this episode, other than the entirely awkward plotline about Mindy trying to fit in with the bros. I loved that the UFC ring girl ended up being Mindy's client and that they had a conversation about OBGYN stuff in the middle of a UFC fight.
Guest Star Power: This episode definitely had some of the most unexpected guest stars so far. I can safely say I did not predict former The Girls Next Door reality television star and Playboy model Kendra Wilkinson to show up as the ring girl and a client of Mindy's. She was surprisingly funny, in addition to my nostalgic Nickelodeon favorite Josh Peck (as seen below in the classic Drake and Josh).
The Ex Factor: Apparently, we're now supposed to think that Mindy secretly loves Danny too much to ever focus on anybody else? Not that I thought her relationship with Jason was going anywhere, but it's annoying to have that thrown away because Mindy knew Danny's sushi order.