Stream Arcade Fire's 'Reflektor' Here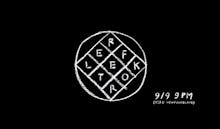 Arcade Fire's inability to release something normally is starting to seem less genius and more pathological.
The band's eagerly anticipated new album, Reflektor, has been in production ever since The Suburbs was released three years ago. Originally scheduled to come out on October 29, the album has been released four days early as a lyrics video set to Black Orpheus. Check it out above.
Arcade Fire seem constitutionally unable to treat their album releases normally. And that's fine — their records are often exceptionally good. The band has been dropping vague hints about Reflektor through guerrilla graffiti campaigns, pranks played at surprise shows (where they were already billed under a pseudonym), interactive music videos, and surprise TV specials after SNL.
Reflektor is the longest of the band's releases, clocking in at one hour and 25 minutes. Those who love Arcade Fire will appreciate the album's sense of anthemic apocalypticism; lovers of LCD Soundsystem will enjoy producer James Murphy's winching of the band's grooves; and those eager for experimentation will appreciate the group's further incorporation of Haitian music. No comment yet on whether or not the album in its entirety is good.
Listen above, leave your thoughts below. We've broken to the album into track links below.