7 Incredible Women Who Are Inspiring the Next Generation of Female Filmmakers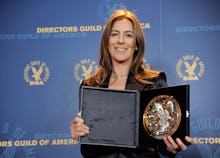 As we enter awards season, we will likely see a familiar trend continued, namely the dominance of cinema by male writers, directors, and producers. Despite this lack of parity, more and more female filmmakers are making their mark and motivating a new generation to take up the craft. Here are 7 women who are inspiring the next generation of female filmmakers. 
1. Diablo Cody
With her unique brand of slang and a keen ability to be heartfelt without being overly sentimental, Diablo Cody became an overnight sensation. She won an Oscar and a place in pop culture history with Juno, a modern classic that propelled both Cody and star actress, Ellen Page, onto the A-list. That could have been it for Cody — she easily could have faded into obscurity. Instead, she wrote a smart horror comedy, wrote another female-led indie, and developed a critically-acclaimed television show. And she recently made her directorial debut, Paradise, which she also wrote. Coming from an unconventional background — a blogger/stripper — she proves you don't need pedigree to make it in Hollywood; you only need raw talent.
Film to watch: Juno. Cody's first ever screenplay will always be a classic.
2. Sofia Coppola
Having pedigree isn't always a bad thing. Any list of influential female filmmakers would be incomplete without the inclusion of Sofia Coppola. She is one of the few female directors who has gained the kind of name recognition that could overcome her role as the daughter of Francis Ford Coppola. Her first feature was The Virgin Suicides, which introduced us to her unique directorial style. You can't argue with the fact that she has carved out a name for herself as a true auteur. And you can't forget she's one of the few women to garner a Best Director nod from the Academy, and also won for Best Screenplay for Lost in Translation. She's the film geek most women want to be: a little odd, very talented, and all kinds of cool. 
Film to watch: Lost in Translation. It's a cult classic for a reason and features one of Bill Murray's best roles. 
3. Lake Bell
When we think of actor-director's the names that come to mind are George Clooney, Ben Affleck, and Robert Redford. Lake Bell is looking to join that list, and if reviews of  her new film, In a World, are any indication, she is well on her way. The film casts her as a voice-over artist trying to break into the male-dominated industry — an interesting subject for a female writer/director to tackle given Hollywood's penchant for male filmmakers. And it beat out some stiff competition at Sundance with Bell winning the Waldo Salt Screenwriting Award. Having already commenced writing her second feature, a film she calls "an unromantic romance," Bell is on her way to cementing her status as indie auteur, and next big actor/director, showing others the transition is possible for female actors, too. 
Film to watch: In a World. It is the only film she's directed to date, but it's critical reception means it's bound to be the first of many. 
4. Catherine Hardwicke
Love it or hate it, the Twilight series is one of the most successful film franchises of all time. Much of that is due to director Catherine Hardwicke's having "discovered" the film's stars (giving us Robsten) and making what many consider to be the best film of the series. Whatever people may think of the vampire franchise, no one can deny the talent she's shown in her early work. Having worked as an art director under some great directors, she turned that experience into her directorial debut, Thirteen. The critically acclaimed film was co-written with then-14-year-old Nikki Reed, garnering Holly Hunter an Oscar nomination. It also won Hardwicke a place on the Hollywood radar. Hardwicke walks the line between blockbuster and indie, and there are many aspiring filmmakers who would love to emulate her success. 
Film to watch: Lords of Dogtown. It features some epic skateboarding sequences and features one of Heath Ledger's most underrated performances.
5. Sarah Polley
As a Canadian, I would be remiss to list some of the best up-and-coming female filmmakers without mentioning Sarah Polley. Like Bell, Polley began her career as an actor. She worked with many prolific directors including Atom Egoyan and David Cronenberg. Perhaps that's why she's been able to create her own stunning films. Away from Her, a film about a couple dealing with the effects of Alzheimer's, garnered near-universally stellar reviews and earned Polley an Oscar nomination. She followed that up with the equally stunning Take This Waltz and recently released a documentary centering on her own family. Her varied work is both personal yet universal, providing a role model for those who are looking to transcend genre and make great films. 
Film to watch: Take This Waltz. It is a beautiful film that provides viewers with a look at Polley's Toronto, a city often filmed, but rarely explored. 
6. Lena Dunham
She might not be universally loved, but there is no denying Lena Dunham has taken Hollywood by storm, inspiring a generation of young women in the process. Dunham's stunning success with Girls has proven to many that it is possible to have a popular show for women produced by women. I'll admit, I'm not always the biggest fan of Girls, but I appreciate that Dunham is showing us the world through her lens and there is nothing wrong with that. And let's not forget, Dunham has had success with film as well, writing and directing indie favorite Tiny Furniture. Her Directors' Guild Award doesn't hurt either. In 10 years' time, there will be more than one filmmaker who cites Dunham as an early influence. 
Film to watch: Girls' Pilot. It's the episode that started a cultural phenomenon, and introduced us to middle class, over-privileged Hannah Horvath who we all love to hate. 
7. Kathryn Bigelow
She may come from a different generation, but that doesn't make Bigelow any less inspirational to women trying to break into film. For years it seemed female filmmakers would be pigeonholed into certain genres and so would not receive mainstream recognition. Then came The Hurt Locker and Bigelow's historic Oscar win for Best Director. Her snub last year for Zero Dark Thirty threw us for a bit of a loop, but Bigelow took it in stride (mainly by staying silent), proving she has grace to go along with the talent. Bigelow has always been a pioneer, not letting the constraints of genre constrain her — her resume includes action drama's almost exclusively. She has broken down so many walls, that without her many (including those on this list) may not have gotten where they are now.
Film to Watch: Point Break. This Keanu Reeves/Patrick Swayze film put Bigelow on the map, and has since become a 90s classic.