Arcade Fire is Brilliant, and These 5 Songs Prove It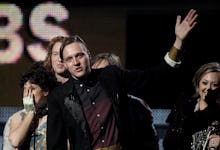 They're not very sexy. They don't put on unforgettable shows. They don't give great interviews. They stay out of celebrity headlines. They've never had a top 10 hit in any country.
How is it possible that Arcade Fire is the best band in the world right now?
The simplistic, over-obvious answer: Their songs are really, really good. In an era where one or two men write every song hitting the Billboard charts and pop stars are blatantly propped up by the industry, Arcade Fire has made it the old fashioned way: by writing and performing classic after classic. As the band's fourth album, Reflektor, comes out Tuesday, here's a look back on five songs that show how brilliant and diverse they are.
1. "Crown of Love," 2004
Good bands release one or two catchy singles every few years. Great bands bury their best, most thoughtful material in their albums, forcing you to dig into whole projects to root the gems out. "Crown of Love" is one of these gems — amidst pounding anthems like "Rebellion (Lies) and "Wake Up" is a breakup song so anguished you can practically hear frontman Win Butler's voice cracking into a sob.
2. "Keep the Car Running," 2007
The Rolling Stones may have come from England, but they declared themselves an American rock band right on their 1963 grimy cover of Bo Diddley's "Not Fade Away," in which Mick Jagger struts all over a driving shuffle and wailing harmonica. Arcade Fire makes the same declaration on 2007's "Keep the Car Running," right around when Win Butler breaks into his best Springsteen howl: "oh ohhh, oh ohhh!" The song is the musical equivalent of a Canadian mechanic taking all the best parts from classic Detroit-made locomotives made over the years, and then firing it up on all cylinders and ripping across the country at top speed. Butler and company take the blues form from the Delta and add Kerouac's road narrative, Dylan's sardonicism and Springsteen's grandiosity, transforming all of their influences into a three-and-a-half-minute epic.
3. "Intervention," 2007
Courtesy Cole Jefferies on Vimeo.
If Arcade Fire reassembled spare American parts on "Keep the Car Running," they turn to a European baroque tradition for "Intervention," a song on the very same album. The majestic organ and accordion riff sound triumphant, but really, the band is taking a musical style of power and faith and turning on its head. While the angelic background chorus sings above the church organ, Butler tells a different story: "Working for the Church while your family dies / You take what they give you and you keep it inside / Every spark of friendship and love will die without a home." The pomp of the music makes Butler's protest call all the more desperate.
4. "Ready to Start," 2010
What does anxiety sound like in song? Just listen to "Ready to Start," a nearly perfect pop song that is shrouded by loneliness, longing, and regret. "If I was yours — but I'm not," Butler repeats. It's a plea for belonging, for friendship, for love. The tense, jittery guitar riff drives the point home, while the dreary keyboard and crash cymbals combine to sound like a windshield wiper on a lonely rainy night.
5. "Here Comes the Night Time," 2013
On one of the band's latest tracks, Arcade Fire shows off its dance-y side. The band recently released a lyric video setting their new album to scenes from the 1959 classic Black Orpheus, and it's surprisingly easy to imagine crowds of Brazilians dancing to the bright piano and punchy bass. "If there's no music up in heaven, then what's it for?" Butler asks. I'm not sure — but if that's true, I'd probably rather be down here, just as long as Arcade Fire sticks around.