Why a Banksy-Designed World Trade Center Would Be a Total Eyesore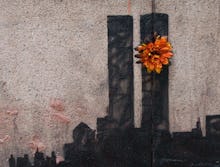 If you don't know Banksy, he's the London graffiti artist who has been in New York City the past few weeks for his new show "Better Out Than In." He also recently made national news for an article he published on his website (after being rejected by the New York Times) calling the design of One World Trade Center a " disaster," a "shyscraper," and "something they would build in Canada."
Although Banksy's comments have raised a national outcry, before we fully condemn them, let's take a look at what the master of spray paint would have done differently had he designed One World Trade Center. 
The concept of Banksy's building would be based around fundamentally unanswerable questions, such as "What is art?" or "Is Steve Jobs the Second Coming of Christ?" The open-endedness of these questions would have given Banksy the ability to design whatever the fuck he wanted, no matter how confusing, nonsensicle, or architecturally unsound it was.
Therefore, "One World Trade Center" would be renamed "Infinity World Trade Center," and would be a building within a building within a building within a building within a building (described in the visitors brochure as an effort to represent the unending nature of art). 
The entire complex would be made out of 1,000,000,000,000,000,000,000,000,0011 Legos, a campaign to raise awareness for the conditions sweatshop workers in Mumbai. Covering the outermost building would be the spray painted image of Anne Frank dressed as a nun dressed as a prostitute crying tears of toxic sludge onto her brand new iPhone 5s.
Since the entire project would have to be completed under the anonymity of darkness to preserve its mystery and artistic integrity, construction crews would only work at night causing approximately 44 work-related deaths and 113 Lego-related injuries. Moreover, since Infinity World Trade Center would be the first-ever major American building made entirely of Danish children's toys, it would take between four and 53 years to complete. 
Okay, that's probably enough.
My point here is that when Banksy comes to a city, sets up shop, and uses its cement as a canvas for his artistic musings, we generally celebrate his work, take pictures, and give him a free pass on the whole graffiti thing because all he's really doing is painting walls. Although I have no doubt that Banksy hoped his comments would only add to his notoriety, when art becomes intentionally destructive or demeaning, most people quickly lose interest.
And so, unfortunately for Banksy, I think he's lost his audience.