Libertarian Sues NSA and DHS Over Obscure Law Limiting Speech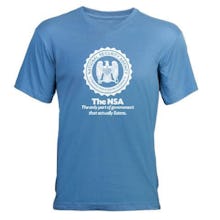 Libertarian apparel website LibertyManiacs.com has filed a lawsuit against the Department of Homeland Security (DHS) and the National Security Agency (NSA), but not for the reason many people would think.
LibertyManiacs has been selling items with slogans like, "Department of Homeland Stupidity," and, "The NSA: The only part of the government that listens." That is, until 2011, when McCall's supplier, Zazzle.com, received a cease-and-desist letter from both the DHS and the NSA because it is against the law to use, mutilate, or alter a government seal without permission.
A self-professed libertarian, McCall has filed a lawsuit against the DHS and the NSA claiming that the law behind the cease-and-desist order is unconstitutional on the grounds that it violates his First Amendment right to freedom of expression. He has since moved his products from Zazzle to CafePress.com in order to continue producing LibertyManiacs merchandise. McCall and his attorney from Public Citizen, Paul Alan Levy, hope to have the law deemed unconstitutional by a federal court. The law prevents criticism of government agencies, which is a very serious affront to the First Amendment of the Constitution.
"The agencies' attempts to forbid McCall from displaying and selling his merchandise are inconsistent with the First Amendment," Levy said in a statement. "It's bad enough that these agencies have us under constant surveillance; forbidding citizens from criticizing them is beyond the pale."