Joe Lhota For Mayor: 5 Things Young New Yorkers Need to Hear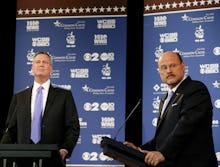 Tuesday night, Joe Lhota will likely have conceded his candidacy for mayor of New York City. But before he returns to private sector success, there are five things you should know about the most popular candidate for New York City mayor who's not named Bill de Blasio.
1. He has proven managerial experience.
Lhota even made the Metropolitan Transit Authority suck a little bit less. Hurricane Sandy didn't help his plans any (neither did that "idiot" Mayor Bloomberg, apparently), but the MTA operated at something vaguely resembling efficiency under his watch. He also showed an accomplished (if manipulative) ability to sway public opinion towards policy changes.
When the MTA planned a fare hike, Lhota began the process by floating a variety of plans concentrating increases on specific segments of riders (i.e. increasing the cost of monthly cards by almost 25% while keeping base fares flat). The conversation shifted to debating what a fare increase should look like, while avoiding the question of whether or not fares should rise at all. A well-orchestrated sleight-of-hand.
2. He's conservative, but only by New York standards.
Only in a place as liberal as New York City can a pro-choice, pro-gay marriage, pro-marijuana legalization candidate be branded the conservative. Lhota's message is indeed much more fiscally conservative than the tax-the-wealthy mantra of his Democratic opponent, Bill de Blasio, but both candidates align on a spectrum of socially progressive agenda items. Any ground Lhota could have gained in this area was likely forfeited by his qualified support of the campaign's hot-button issue: the NYPD practice of Stop-and-Frisk.
3. He's neither Rudy Giuliani nor Michael Bloomberg.
No really, he's not. Lhota has attempted to distance himself from his time in the Giuliani administration. He also has separated himself from the actions of current Mayor Michael Bloomberg. Lhota is indeed more the typical conservative businessman than either of his hard-nosed predecessors. Nonetheless, he's been saddled with the "establishment" label in a city ripe for change. Yes, violent crime has fallen precipitously while other aspects of life improved under the current administration, but New York seems to have tired of leadership like Bloomberg's. Being the Bloomberg candidate sunk Christine Quinn's bid for mayor, and a looser connection to Bloomberg is sinking Lhota's.
4. He makes an excellent fall man.
Lhota has direct experience in furthering high-tech innovation from his time at the MTA, whereas de Blasio just has broad plans about fostering education. This could have scored a key point for Lhota, but he hasn't gone as far as Bloomberg to court the tech community. In this sector and others, Lhota has not seen supporters crossing party lines the way Bloomberg enjoyed in his campaigns. In a city where almost 69% of registered voters identify as Democrats, that's a pretty ominous sign.
If nothing else, Lhota's presence in the race has pushed de Blasio back towards the political center, and de Blasio has spent much of the past month trying to convince Wall St. he's not exactly their enemy. Of course, fiscal conservatives would love to see Lhota installed instead of de Blasio, but many seem to have long ago come to terms with the unlikelihood of that possibility. Lhota's presence in the race forced de Blasio to combat charges of being incompatible with Wall St. Now, for that "winning" thing...
5. He's not going to win.
It's not a good sign for your candidacy when the biggest storyline is your opponent's 40-50% lead in the polls. The race has been de Blasio's to lose for some time now, but he's stayed on the offensive against Lhota. The death knell of Lhota's campaign came last week from an unlikely source: President Obama.
Presidents don't typically dine with losers. Or even mere front-runners, for that matter. For confirmation that rival Bill de Blasio's 40-point lead is here to stay, look no further than this picture, taken Friday, October 25, in Brooklyn.
Sorry, Lhota. Seat's taken.